British ex-boxing champion Anthony Small defends ISIS beheadings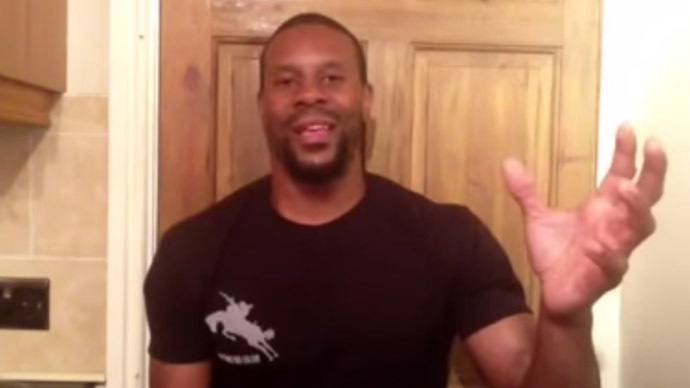 A former British boxing champion has released a video, in which he shows support for the Islamic State (IS), claiming the beheadings of American journalists, Steven Sotloff and James Foley, were a form of "retaliation" and were not "unprovoked."
Mispronouncing Foley's name as 'Folly' and 'Fooly', Anthony Small blamed Western powers for the violence being committed by IS (formerly ISIS) militants. He said that the West had "declared war" on Muslims, commenting, "If I was in America, I wouldn't feel safe."
In the video uploaded to YouTube, he said, "We have to be objective and non-biased, that the beheading of James Foley, Mr Beheaded infidel, not to be disrespectful to him or his family, I can't remember his name, Mr Infidel, it wasn't unprovoked."
Small said: "I don't want to say 'unprovoked' because they could say I am glorifying terrorism… No state can sit by and allow itself to be attacked in this manner."
This comes after IS released a video on Tuesday, entitled "A second message to America," allegedly showing the beheading of the American journalist Steven Sotloff, two weeks after the first IS video of the execution of the American freelance journalist, James Foley.
In the 15-minute clip, the 33-year-old calls the US the "United Snakes of America," and also calls James Foley "Mr Beheaded infidel."
He also warned Britons of terror attacks if the UK takes military action against IS. He said, "If Britain ups its attacks, [I] won't be considering going near any buses, trains or tubes. [The] UK will become a very unsafe place."
He added: "How many sleeper cells are waiting to go off?" in reference to home-grown terrorists fighting for IS and who may return home to launch attacks inside the UK.
He finishes his argument by suggesting that the beheading of innocent people could be prevented if the US would "stop interfering in lands that are not their own."
Small released another video six months ago entitled "Why Muslims have no sympathy for Lee Rigbys son!" in which he insisted he felt no sympathy for the child of British soldier Lee Rigby, who was brutally hacked to death by two radical Muslims in South East London.
Small, who is retired from boxing, converted to Islam at the age of 24 and is now known as Abdul-Haqq.
This comes days after a white middle-aged British mother-turned-extremist tweeted that she wanted to behead Christians. Sally Jones once fronted a rock band and was recently discovered to have married an extremist after converting to Islam. She later travelled to Syria to join the Islamic State.