'No to NATO': Hundreds march against militarism, nuclear weapons at Wales summit
Some 400 people have joined a protest camp in Newport to protest against NATO. The march comes ahead of next week's military summit that will see 60 world leaders descend on the area and is already causing considerable disruption to locals.
"Nuclear NATO - no, thanks!" or "Iraq, Ukraine - no more wars" read the numerous placards as about 400 protesters took in a march on Saturday against the upcoming NATO summit.
Set Britain Free. #NoToNato#NoToEU#noTTIP etc. pic.twitter.com/iX3uC8aDnt

— James Walters (@jjwgr) August 30, 2014
The Campaign for Nuclear Disarmament said that they expect Saturday's march to be a "major demonstration" and local officials have said a number of roads will be affected by the march, which began at 2 pm local time.
The campaigners are organizing a week of marches and meetings against NATO as well as a "peace camp" and a Counter Summit to take place on the campsite on Sunday. The NATO summit is to run at the Celtic Manor resort on the outskirts of Newport on the 4th and 5th September.
Demo against #Nato on the move in Newport! #NoToNatopic.twitter.com/SQBJ5WfRgk

— Luke Massey (@luke_mas) August 30, 2014
There will be representatives from a number of groups at the protests including "No to NATO," the Campaign for Nuclear Disarmament (CND), the Stop the War Coalition and South West against Nuclear (SWAN).
More than 20,000 protesters from around the world are expected to attend the demonstrations in what is being billed as Wales' biggest protest in a generation.
Protesters here "associate NATO in their words with imperialism, warring, global in equality and austerity," Harry Fear, RT's correspondent at the scene, said.
He also said there is a huge policing "operation going on in South Wales to secure the NATO meetings and to facilitate these very significant demonstrations."
NATO and the politicians who back it is increasingly out of touch with ordinary people, John Rees from Stop the War Coalition, told RT.
"The world stands on the edge of a precipice. We have rhetoric which is off the chart about the possibility of a conflict between the major powers in the Ukraine. People think that these are world leaders who are out of control, they have no sense that these policies are deeply unpopular," he said.
Many of the protesters are against the existence of NATO, which they believe also represents nuclear proliferation. There will also be groups representing refuges from Iraq, Afghanistan and Libya. NATO has carried out wars and aerial bombardments in all of these countries as a means of carrying out regime change, but now all of them are experiencing chaos to varying degrees.
Eddie Clarke, from the "No to NATO" group, said that the idea was to connect all the protest organizations there so that everyone speaks with one voice.
"The objectives are to get rid of nuclear and NATO, to completely obliterate weapons of mass destruction. The short-term aims are to connect each similar group in NATO member countries to us, to have a single voice, equal in each individual country," he told the IBTimes UK.
#NoToNato@STWuk@SHAHSHEMI @pgo1980@pgo1980 they speak for #gaza @georgegalloway@Adam007Ali@Krantzy@PeterTatchell pic.twitter.com/m4CdDi6ydY

— Yasin (@YasinDin) August 30, 2014
The protest organizers said they are extremely concerned at the threat to world peace that NATO now represents.
"Many of us are increasingly worried by the threat that NATO poses to world stability and peaceful relations. Since the end of the Cold War, NATO has reinvented itself supposedly as a tool of the 'international community' to safeguard 'freedom and security'," they said.
"In reality it is a vehicle for US-led use of force in the interests of the rich and powerful, accelerating militarization, bypassing the United Nations and the system of international law, and escalating spending on arms."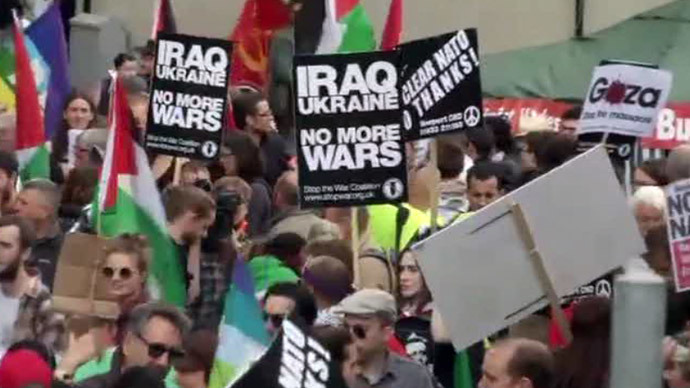 The Stop the War website says that the 60 world leaders are meeting to "plan their war on the world." They are expected to respond to alleged Russian aggression in eastern Ukraine.
The local community is also displeased with the amount of disruption the summit is causing.
Twelve miles of steel perimeter fencing has been erected in parts of Newport and Cardiff. Roads and schools have been closed, meaning that many people have been forced to take time off work. A local hospital has also been forced to transfer some of its patients.
The fence has been dubbed the "ring of steel" and has been likened to a prison or the Berlin Wall, as fears are running high the summit could be the target of a terrorist attack.
"Nobody has given anything clear as to how much money it will bring into Wales or Newport. People having to take the day off work because of travel disruptions and schools being closed, it looks like it will have the opposite effect. Money's going to be taken out of the economy because people aren't going to be able to get to work," Simon Coopey, who will stand as a candidate for Plaid Cymru, the Welsh nationalist party, in Newport West at the next general election, told IBTimes UK.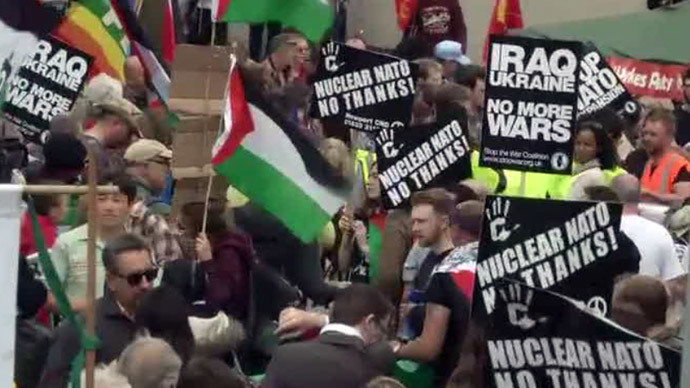 You can share this story on social media: