Islamic State supporters leaflet Central London, declaring 'dawn of a new era'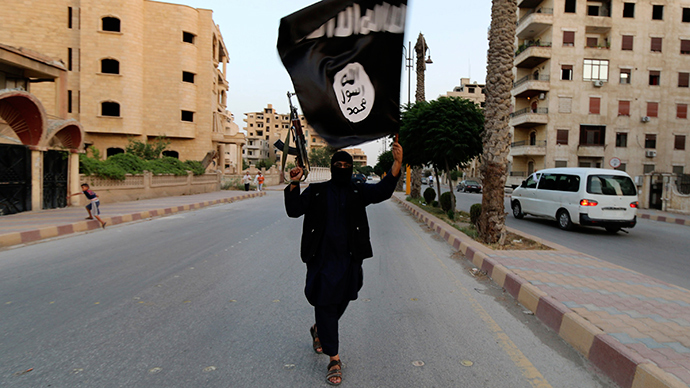 Supporters of the extreme militant group, Islamic State (formerly ISIS), handed out leaflets in central London calling on Muslims to pledge religious allegiance to their cause, witnesses say.
One flyer circulated by the fundamentalists on Monday reportedly urges Muslims to "spread the Khalifah [Caliphate] across the world" by creating a new Islamic State ruled by an Imam under Sharia law.
Asma Al-Kufaishi, a young British-Iraqi student, tweeted pictures of the incident, which occurred near London's busy Oxford Circus shopping district. The pictures reveal the group displaying posters donning pro-Islamic State black flags.
Image of ISIS supporters handing out pro-ISIS propaganda in Central London - pic.twitter.com/5X5oOne3uA

— Ghaffar Hussain (@GhaffarH) August 12, 2014
Al-Kufaishi claims the men who were "promoting ISIS on Oxford Street" were racially abusive when she encountered them Monday. "They don't know true Islam," she said.
The leaflets dispensed by the Islamic State supporters argue it's the responsibility of followers of Islam around the globe to pledge devout allegiance to the "Khaleef" – or head of a new Islamic State.
Religious leaders unite to stand together against the terror that is ISIS. Need to do more #NO2ISIS#Iraq#islampic.twitter.com/afNUSZvxip

— Asmaa Al-kufaishi (@Goonerette79) August 9, 2014
In the wake of extreme violence, the Islamic State now controls extensive parts of Syria and northern Iraq. Fundamentalist IS militants also recently clashed with forces in Lebanon following their efforts to annex a border town in the state. The militants' strategy failed, however, as Lebanese authorities regained control over the region.
The director of the Quilliam Foundation, a counter-extremism London think tank, believes the men dispensing IS flyers hailed from Luton in Bedfordshire. They were potentially linked to a UK-based sect of al-Muhajiroun fundamentalists, he claims.
The ISIS grand plan, it's working so far - pic.twitter.com/pPRo2rp4o3

— Ghaffar Hussain (@GhaffarH) August 13, 2014
Ghaffar Hussain, whose research at the think tank analyzes extremist trends in western societies, expressed concern over Monday's pro-Islamic State demonstration in London.
"This is a very disturbing development but one that should not come as a surprise, since we are aware that around 500 British nationals have joined up with ISIS already", he said. "We need to have a zero tolerance policy towards ISIS supporters and recruiters in the UK."
A Metropolitan Police spokesman told RT on Wednesday the force was aware of the incident, but that no arrests had been made at this juncture.
"The Metropolitan Police Service has been made aware, via social media, of leaflets which reports state were being distributed in the Oxford Street area. We are assessing the content of the leaflets to establish whether any criminal offences have been committed," he said.
More images of the pro-ISIS stunt in Oxford Street earlier - pic.twitter.com/jTK2yPal89

— Ghaffar Hussain (@GhaffarH) August 12, 2014
The Islamic State's iconic black flags first were first publicly flown in Europe at demonstrations in The Hague. The Dutch government subsequently declared public displays of the provocative flag illegal. This recent pro-IS demonstration follows a similar parade of extremism early last week in east London where a Jihadi flag was mounted at the entrance of the Wills Crooks estate on Poplar High Street.
You can share this story on social media: