Group of British Jews and Israelis flout MP Galloway's Bradford ban with defiant weekend visit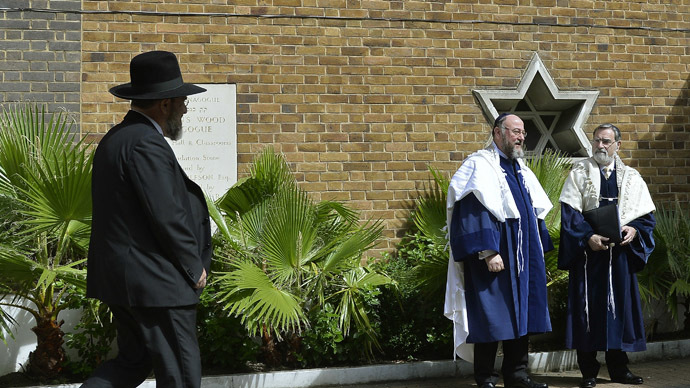 A group of British Jews and Israelis visited the UK city of Bradford on Sunday in defiance of MP George Galloway's recent claim that Israeli tourists weren't welcome there and the district should be an "Israel free zone".
The group, led by Rabbi Shneur Zalman Odze, reportedly embarked upon the trip to "prove a point.""We received a nice reception even from those who weren't pro-Israel", the Rabbi told RT on Monday.
.@georgegalloway in Bradford today with my Israeli friends, we got a tremendous reception - how's your ban going? pic.twitter.com/w9QjKdMa7s

— Shneur Zalman Odze (@ShneurOdzeUKIP) August 10, 2014
On August 2, Galloway, who has represented Bradford since 2012, suggested the city's populace should take a firm stance against Israel's Operation Protective Edge in Gaza and boycott Israeli goods, services, academics and tourists.
In the wake of Israel's Gaza offensive – a protracted military assault that has been criticized by UN officials, high profile British politicians, academics, and UK citizens – Galloway told activists, "we have declared Bradford an Israel-free zone."
"We don't want any Israeli goods. We don't want any Israeli services. We don't want any Israeli academics, coming to the university or the college."
"We don't even want any Israeli tourists to come to Bradford, if any of them had thought of doing so. We reject this illegal, barbarous, savage state that calls itself Israel", he said.
'Galloway offended my British sensibilities'
Following two separate formal complaints, Galloway's controversial remarks were investigated by West Yorkshire Police.
Rabbi Odze and his associates made the decision to visit Bradford to send a message to Galloway that British Jews and Israelis resident in Britain would not be intimidated by his "extreme", "arrogant", "discriminatory" and utterly "un-British" remarks.
The group held a protest in the city center on Sunday and spoke with numerous locals regarding the issue. Certain members present reportedly hold duel UK-Israeli citizenship, and elected to bring their Israeli passports along to illustrate this fact to onlookers.
Not yet set up and the good people of Bradford are coming over already to wish us well! pic.twitter.com/VMiyZe9tcQ

— Shneur Zalman Odze (@ShneurOdzeUKIP) August 10, 2014
Reflecting on the demonstration, Rabbi Ozde commented:
"Galloway's recent speech in Bradford offended my British sensibilities. Britain is renowned for being an open, tolerant and fair society, so for Galloway to appoint himself as a spokesman for the city in such demeaning and dismissive tones is unacceptable."
The rabbi emphasized while many people they encountered in Bradford didn't agree with Israel's actions in Gaza, it was "heartening" to see a "cross section of people in the city center" categorically state Galloway's perspective that Israelis weren't welcome in the district was was not a view they shared.
'Anti-Semitism always follows'
When asked whether Britain's Jewish community had experienced a rise of anti-Semitism in the wake of the Gaza crisis, Rabbi Ozde said "this always happens" when conflict in the region breaks out. But what is particularly noteworthy, he claimed, is "the changing nature of this anti-Semitism". "Increasingly, we are seeing minorities on minorities. It's a shame", he added.
"I say this cautiously: there are predominantly Muslim areas in London where many Jewish Britons find it intimidating to walk through. When I go through the East End of London, it's scary", Odze said.
Steady stream of people coming over to wish us well and distance themselves from @georgegalloway hate speech pic.twitter.com/6TUTHaXQS3

— Shneur Zalman Odze (@ShneurOdzeUKIP) August 10, 2014
Often Jewish people face verbal "abuse" in such districts, the rabbi said. Such acts are carried out by a "tiny minority" of London's Muslim population, he emphasized. But "this is not the Britain I know and respect", he added.
When asked whether he viewed Israel's recent military action in Gaza as proportionate, Rabbi Ozde said he believed it was.
"Israel has been reluctant to pursue military action on this occasion even though they have the upper hand in terms of military strength", he argued.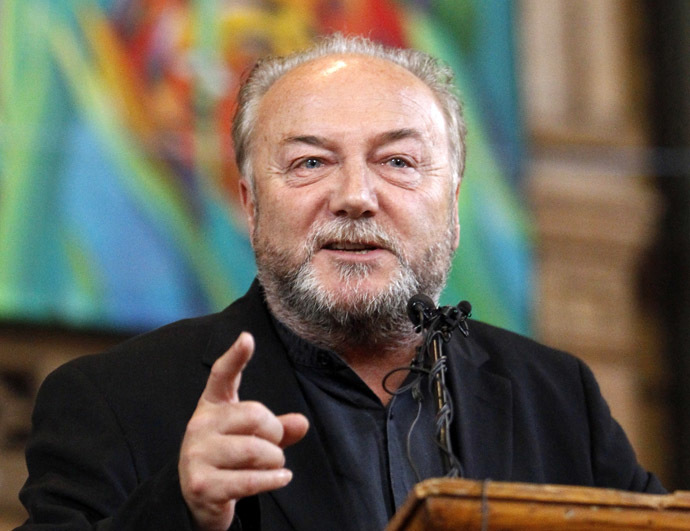 Ron McKay, a spokesperson for the Respect Party who was present when Galloway's controversial remarks were made, however, strongly contests this perspective. In an interview with RT, McKay recently defended the MP's suggestions that Bradford should be an Israel free zone.
"The Israeli administration is engaging in mass murder, slaughter and war crimes. Recent opinion polls conducted in Israel indicate an overwhelming majority of Israeli nationals view the IDF's use of military force in Gaza as proportionate", Mc Kay argued.
"Why on earth" would the people of Bradford welcome "apologists for a terror state?" he asked.
@georgegalloway this is the way to go. #boycott one product at a time to make max impact. #BoycottGarnier#BDS#FreePalestine

— roger the dodger (@reggibarbossa) August 11, 2014
On the issue of whether Galloway's statement regarding Israeli tourists was discriminatory, Mc Kay said that "everyone should discriminate against mass murder."
'Proportionate is an overused term'
But Rabi Ozde suggests that while the deaths in Gaza are horrific, Israel's military action in the region has been proportionate in recent weeks.
Ozde claims he has "no qualms" in backing Israel's actions in Gaza since Operation Protective Edge was launched. "I have admiration for Israel, which has tried to prevent as many civilian casualties as possible", he said on Monday. "I'm horrified by deaths in Gaza.But 'proportionate' is an overused term.The injury of any innocent civilian is regrettable. However, Israel has a duty to protect its citizens", he emphasized.
Sunday's protest was an effort to illustrate that "minority communities can live together in peace in Britain and not import foreign conflict", according to the British Rabbi. "We're here, we have our own opinions and we wish to live in peace",he said.
Approximately 1,939 Palestinians have lost their lives since Israel's Operation Protective Edge began. According to United Nations officials, roughly 73 percent of those casualties were civilians.A total of 64 Israeli soldiers have also died in the Gaza conflict, along with three Israeli civilians.
A new 72-hour truce has been agreed following Egypt's confirmation it received "simultaneous consensus" from Israel and Hamas they would back such a move. The ceasefire was initiated at 21:00 GMT on Sunday.
This three day reprieve from the conflict remains in tact on Monday evening, raising hope for a respite from the grueling violence that has devastated Gaza in recent weeks. Israeli officials reportedly agreed to the ceasefire, following mediation by Egypt.
You can share this story on social media: