Tablets trump sleep in tech savvy UK – Ofcom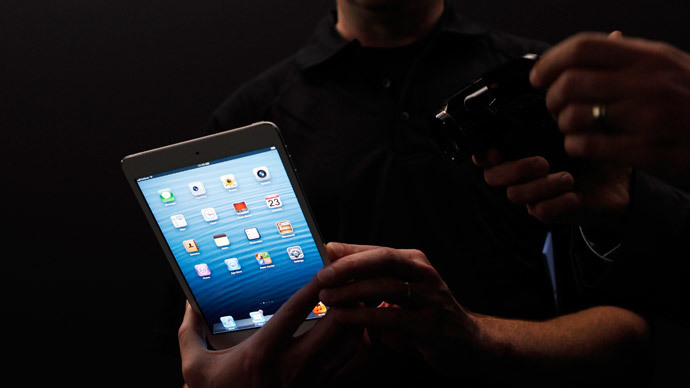 Brits spend an average of 8 hours and 41 minutes interacting with their digital devices each day – 20 minutes more than the average time spent sleeping, according to a survey published on Thursday.
The reportfound that changing work patterns also resulted in a greater dependence on technology, as a third of Britons sent work-related messages on holiday, while 1 in 10 said they read work emails and texts before going to sleep.
The survey examined the technology habits among 2,000 adults and 800 children.
While Britons continue to spend most of their time watching television, the average viewing time fell from 4 hours and 1 minute to 3 hours and 52 minutes.
Greater use of smartphones and tablet computers are behind the rise according to Ofcom, who say new technology allows people to stay connected while on the move.
The survey also shows a significant age divide in the way that technology is used.
While 20 percent of adults spent their time communicating through telephone calls, only 3 percent of teenagers did the same. Instead, 94 percent of young people (aged 16-24) who used technology to communicate did so using social networking and instant messaging.
While TV is still king, the average viewing time fell from 4 hours and 1 minute to 3 hours and 52 minutes, with more people turning to online streaming services to watch programmes.
According to the report, 14-15 year olds have become the most 'tech savvy' generation, with six year olds showing the same level of competence with technology as the average 45 year old.
"Our research shows that a 'millennium generation' is shaping communications habits for the future" said Ofcom chief executive Ed Richards.
"While children and teenagers are the most digitally savvy, all age groups are benefiting from new technology," he added.
With Britons more glued to their technological devices than ever before, a quarter believe that it has improved their work-life balance, compared to 16 percent who disagree.
The figures come following data collected by the Office of National Statistics (ONS), showing that 76 percent of adults now accessed the internet every day, compared to 13 percent who have never been online.
According to the ONS, the UK has the second highest proportion of social networkers in Europe, with most being between the ages of 16-25.