From mayor to MP: Cameron rival Boris Johnson to run for Parliament in 2015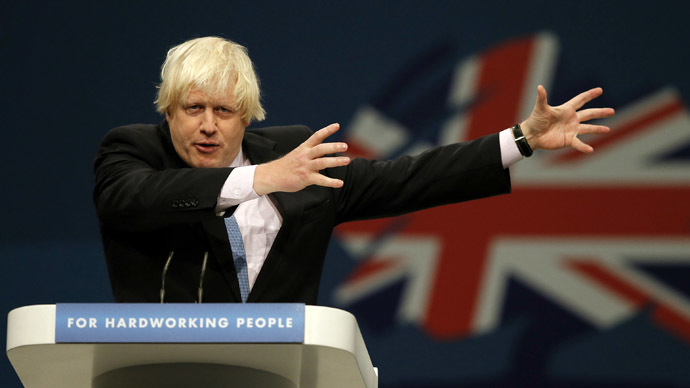 London Mayor Boris Johnson has edged closer to becoming Conservative Party leader on Wednesday, as he revealed plans to run as an MP in next years' general election.
Speaking at Bloomberg's HQ in London, Johnson said, "In all probability I will try to find somewhere to stand in 2015."
Admitting that he'd "danced around" the issue for an "awfully long time," he told the audience that he did not have a target constituency lined up.
"It may all go wrong, but I think the likelihood is I am going to have to give it a crack," he said.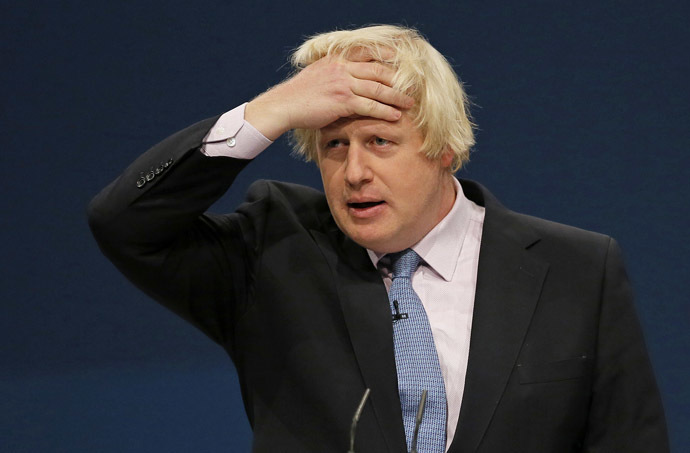 Following the mayor's announcement, Prime Minister David Cameron, who is currently on holiday, called his decision
"great news."
"I've always said I want my star players on the pitch," he added.
Great news that Boris plans to stand at next year's general election - I've always said I want my star players on the pitch.

— David Cameron (@David_Cameron) August 6, 2014
Johnson and Cameron both attended Eton College, an elite British private school, where they had a history of rivalry.
A number of Conservative MPs have thrown their support behind Johnson, with former government minister David Jones calling the announcement "unalloyed good news."
Boris's decision to stand in 2015 is unalloyed good news. Blue touch paper is lit.

— David Jones (@DavidJonesMP) August 6, 2014
— Daniel Hannan (@DanHannanMEP) August 6, 2014
In the event of a Cons government after 2015 @MayorofLondon election as MP would bring amongst highest level of executive experience to gov

— Nick de Bois MP (@nickdebois) August 6, 2014
Johnson's statement ends months of speculation by the British media on whether he would seek a return to Parliament and contest for a senior position in a future Conservative government.
Many in the Conservative party see Johnson as a popular figure, who could become the party's future leader if David Cameron is defeated in the general election.
The mayor, who was an MP for the Henley constituency from 2001-2008, had been asked on numerous occasions whether he would run as an MP once his second term ended, but flatly denied any ambition to do so.
In October last year, Johnson told LBC radio that he would "rather write sexy novels," than become an MP again.
Johnson said he intended to serve out the rest of his term as London mayor, which ends in 2016, leaving many speculating how he could manage both jobs if he were elected next year.
Following the announcement, the Labour Party accused Johnson of breaking his promise to Londoners not to stand.
Labour's shadow minister for London, Sadiq Khan, said Johnson's announcement "reveals how weak David Cameron is and how out of touch the Tories remain."
Khan, who is expected to be Labour's candidate for London Mayor, also said that Johnson was paying more attention to his political ambitions in the Conservative party, instead of "focusing on helping the millions of Britons suffering from the cost-of-living crisis."
As a #Londoner I wish Boris Johnson would pay as much attention to fixing the #LondonHousingCrisis as his bid to be Tory Leader

— Sadiq Khan MP (@SadiqKhan) August 6, 2014
Johnson was invited to Bloomberg to speak about the relationship between Britain and the European Union. He said leaving Europe could be an "attractive option" if it didn't reform itself.
"We could negotiate a generous exit, securing European Free Trade Association-style access to the Common Market," he argued.
The mayor also said he was a "Euroskeptic" but would prefer Britain stayed in the EU if certain reforms could be achieved by David Cameron.
The proposed reforms include a greater repatriation of powers relating to home affairs and the environment, as well as preventing the EU from becoming more federalist.