'Israel attacks are collective punishment!' Nick Clegg slams Gaza op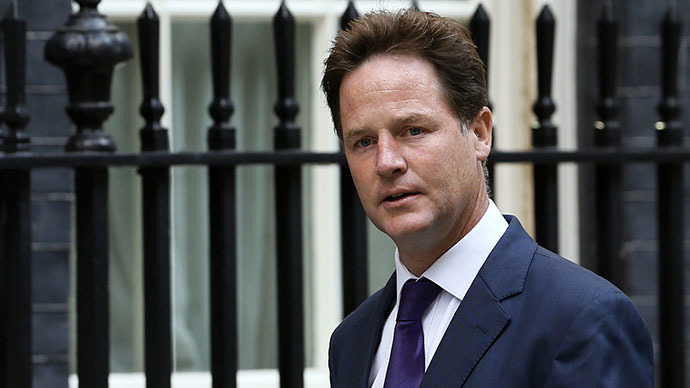 ​Deputy Prime Minister Nick Clegg has lashed out at the Gaza military operation, urging Israel to cease its offensive.
Speaking in his weekly phone-in program on radio LBC, Clegg said that Israel had gone too far in its attacks after four Palestinian children were killed on a beach by Israeli shells.
He also accused Israel of imposing a "disproportionate form of collective punishment" on to Gaza citizens, which would lead to "truly unimaginable" and "unacceptable" humanitarian crisis.
The statements echo the guidelines set out by the International Committee of the Red Cross (ICRC) to define breaches of international law.
In a paper defining international conventions during war, the ICRC classifies collective punishment as a war crime, as it constitutes 'cruel treatment'.
"Both indiscriminate and disproportionate attacks can be likened to attacks on civilians if the perpetrator was aware that this would be the effect of the attack in the ordinary course of events" the report states.
The death toll from the Israeli military operation has now climbed past 200 Palestinians, 70 percent of whom were civilians. Thirty percent were children, according to the UN office for the Coordination of Humanitarian Affairs (UNCHA). Fifty-two people were killed on Saturday alone.
By contrast, One Israeli civilian died as a result of the Palestinian offensive, which included 1,200 largely ineffectual rockets.
While Clegg affirmed his belief that Israel has a right to defend itself "in the face of violence" he hoped that the five-hour humanitarian ceasefire, which began on Thursday morning, would help ease the current attacks.
"Regardless of which side you are on in this ancient bloody conflict, no one can feel indifferent to the spectacle of this overcrowded, desperate sliver of land in Gaza, where so many thousands of people are suffering" he told listeners.
The deputy PM is the first UK government official to criticize Israel's conduct since the Gaza offensive began. It is in stark contrast with Prime Minister David Cameron, who earlier this week asserted Israel's "right to defend itself."
Meanwhile, Cameron signed up to a European Union statement last night, calling for both sides to "de-escalate the situation, to end the violence, to end the suffering of the civilian populations notably by allowing access to humanitarian assistance, and return to calm."
You can share this story on social media: