'Trust President Rouhani': Britain's new policy towards Iran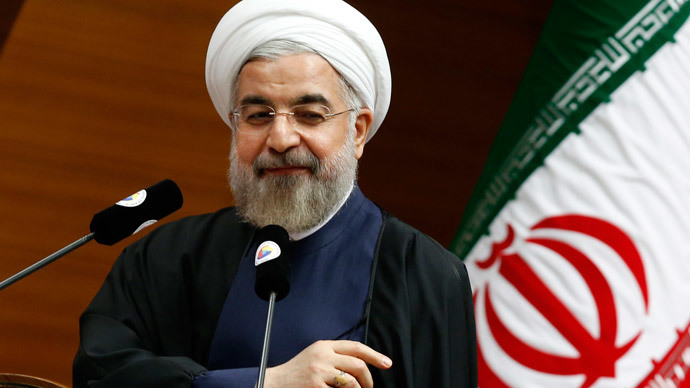 ​A British parliamentary report on relations with Iran says the new President Hassan Rouhani should be trusted, and judged by his actions not his words.
The House of Commons Foreign Affairs Committee acknowledged the Iranian President is genuinely committed to reach a "sustainable deal" on Iran's nuclear program with the permanent members of the UN Security Council and Germany (the P5+1).
"To have confidence in Iran's intentions, the IAEA should have a right to make unannounced and intrusive inspections of all Iranian nuclear facilities, products, designs and records," commented the committee chairman, Sir Richard Ottaway.
The document dubbed Rouhani a "regime insider" with authority and credibility within the highest power circles of Iran. His popularity is based on a clear electoral mandate, which is essentially lifting international sanctions against the Islamic republic.
Because Rouhani is a "pragmatist" rather than a "reformist", the report considers judging the Iranian leader "by his actions and not by his words".
The report of the Foreign Affairs Committee acknowledged that a lasting nuclear deal with Iran would inevitably include allowing Iran to enrich uranium to a certain level. The rate of enrichment should be limited so that Tehran would need at least six months to enrich the necessary quantity of weapon-grade uranium to make a nuclear bomb.
"We need Iran's capacity to enrich uranium to be pegged to a point where we can control any attempt to "break out" and manufacture a nuclear weapon," Ottaway said.
British politicians believe that six month is going to be enough to detect illegal enrichment activities and warn the UN Security Council.
"The Joint Plan of Action is our best hope for reaching a settlement which assuages fears about the scope and intention of the Iranian nuclear program," Ottaway shared.
The Foreign Affairs Committee welcomed the decision to reopen Iran's embassy in the UK, made by British Foreign Office (FCO). Iran's embassy was closed after an assault on the British embassy in Tehran on November 29, 2011.
The closure of Iranian embassy affected UK's "ability to understand the Iranian outlook at first hand," admitted Ottaway.
The report claims Britain has insufficient diplomatic representation in Iran, caused by "a prolonged period of silence," which has put the UK behind other countries that are now looked at by Iranians as "better choice partners" in international relations.
This fact hinders the UK's ability to "shape events, gather information and build the personal contacts", essential in forming constructive diplomatic relations.
"Ideally we would have a mature and constructive relationship with Iran: both sides could benefit politically, strategically, commercially and culturally," added Ottaway.
Overcoming years of a lack of trust between Iran and Britain seems a "remote prospect", acknowledged Ottaway.
London expects to see "at least a partial resolution" of its concerns over Iran's role in regional security and stability, Ottaway stressed.
"The recent political change in Iran gives us an opportunity to start to rebuild the trust on which a constructive relationship depends," Sir Richard Ottaway said.