Bees relief: Syngenta withdraws application for pesticide ban exemption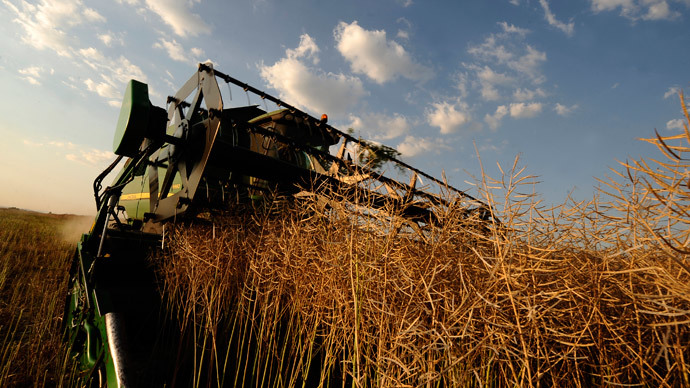 Global agrochemical company Syngenta withdrew its application to allow use of banned pesticide on UK's oilseed rape. Hundreds of thousands of people protested against the bid, as the pesticide is linked to killing bees.
Pesticide maker Syngenta pulled its 'emergency' application last week. Earlier the company was seeking permission to use the chemicals in the UK this planting season, claiming up to a third of all oilseed rape needed treatment with neonicotinoid.

Syngenta was caring for crops, as it stated the winter oilseed rape were largely deemed to be at risk of damage from pests such as cabbage stem flea beetle.

But green campaigners made an outcry, saying it could be bees that would suffer from the crop treated with insecticides.

"It's great news that the huge swarm of protest killed off Syngenta's attempts to try and keep their bee-killing poisons in Britain's fields," Bert Wander, Avaaz campaigner, commented in a press release Friday.

The company's neonicotinoid seed treatments were suspended for two years by the European Union in late 2013 due to research linking it to be a serious harm to the bees. Brussels banned the use of the world's most widely used insecticide in open flowering crops such as oilseed rape, although there are opinions within the farming industry the assertions of its harm are ill-founded.

Only recently, after a four-year assessment, scientists have also concluded that neurotoxic pesticides blamed for the decline of honeybees is also harming butterflies, worms, fish, and birds.

The UK government's advisory committee on pesticides said the criteria for an exemption for Syngenta had been met, although the evidence of the threat to the crops was not made public.

Over 200,000 people protested against the application via a campaign website, with around 35,000 more writing to environment secretary Owen Paterson and asking ministers to "stand firm against Syngenta" and not let chemicals believed to be harmful to bee populations be used.

Although the company itself withdrew its application, it blamed the government for failing to make a decision in time for crop sowing.

Guy Smith, vice president of the National Farmers Union, was also disappointed by the decision's bad timing. "It is very frustrating that it was not possible for a decision to be made in time for Syngenta to prepare seeds for this year's planting. This loss of this treatment will make it more complicated to grow oilseed rape this season," he said.

Syngenta spokesman said the company was considering re-applying in 2015.

The decision not to use the banned pesticides this time was welcomed by environmentalists.

Andrew Pendleton, head of campaigns at Friends of the Earth, said: "This is very good news for bees, at least for now, bees can buzz a little bit easier."
You can share this story on social media: