​34,600 kids aged 10-17 in UK convicted of crime in 2013 – report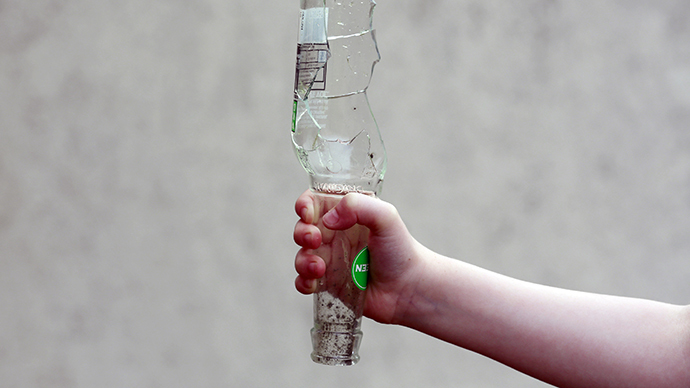 At least 34,600 children in England and Wales aged between 10 and 17 were convicted of a crime during 2013, according to figures obtained from the Ministry of Justice. Over 120 of them were still at primary school.
Out of the 120 primary schoolkids, 40 had been convicted of a crime before, the Telegraph reported, citing Justice Ministry data obtained under freedom of information laws.
In total, more than 22,500 of all the children were repeat troublemakers. At least 5,000 children aged 16 or 17 had been charged with offences at least five times in the past. Over 210 teens in the age group had been arrested more than 20 times, and 29 of them had previously committed about 30 crimes.
What can push the teens to crime is losing interest in school due to failures in basic skills such as reading, writing and arithmetic ("the three Rs"), said Chris McGovern, chairman of the Campaign for Real Education, which calls for a return to traditional education values. McGovern added that a total of 129,000 pupils finished primary education without a proper understanding of "the three Rs."
"It is inexcusable that children are leaving primary schools without being able to read, write and add up, and this is disastrous for their secondary school careers which can lead to absenteeism and criminal activities," he said. "We are letting children down in our schools."
The data shows a decrease in the figures, however. In 2010, the number of children under 18 convicted of crimes in England and Wales was more than 67,000.
Jeremy Wright, the justice minister, said the authorities are "doubling the amount of education" in the institutions for young criminals.
"We are reforming the youth estate with the introduction of secure colleges. These new establishments will tackle the root cause of offending by giving people the skills and self-discipline to gain employment and training upon release and turn their lives around," he told the Telegraph.
In April, the reoffending figures revealed that around 23,000 of 66,000 juvenile offenders between July 2011 and June 2012 reoffended. The "proven re-offending" rate among young people under 18 years old was 35.3 percent, higher than among adults (25.1 percent).