'Tiny elite, huge proletariat': UK middle class to disappear in 30 years, govt advisor says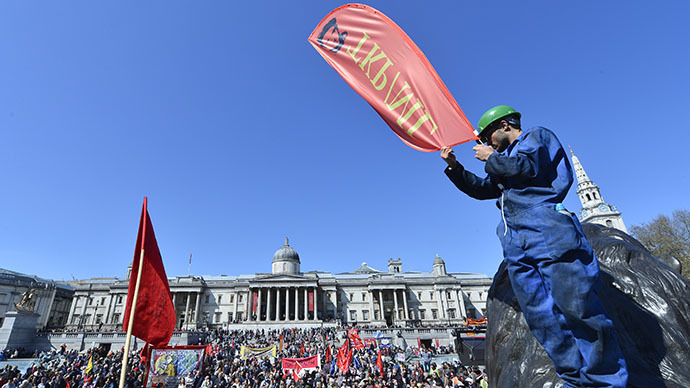 High property prices will wipe out the British middle class within the next 30 years, according to a UK government advisor. He says society will be left with a "tiny elite" and a "huge sprawling proletariat."
"The really scary thing is if in the next 30 years house prices rise as much as they have done in the last 30 years, then the average house in Britain will cost £1.2 million (US$2 million)," said David Boyle, a British author and a government advisor who is a fellow of the New Economics Foundation.

According to Boyle, who spoke at the Hay Festival of Literature and the Arts, most representatives from the traditional middle class won't be able to afford a house because wages will fail to keep up with huge price increases.

"We won't own our own homes, we won't be able to afford it," he said. "We cheered the rise of property prices not realizing that it would destroy, if not our own lives, but the lives of our children."

He added that in order to pay rent, representatives from the traditional middle class will have to take on several jobs. As a result, they won't have time for any hobbies, Boyle predicted.

"Nobody in society will have the kind of space in their lives, space in their homes, space in their careers for any kind of culture at all, because we will be having three or four jobs to make ends meet," said Boyle.

Boyle believes that having no cultural interest will soon "impoverish society, make it more intolerant, and make it more difficult to live."

"It will constrain our dreams and constrain the dreams of our children. It's a new kind of economy where there are no middle classes at all," he added.

The disappearance of the middle class will leave British society with a "tiny elite" and a huge proletariat, believes the expert.

"The place where this is heading is a strange society with a tiny elite and a long struggling, straggling line which is the rest of us, a new proletariat, who will be in hock to Landlord PLC," he added.

Boyle believes middle class citizens must wake up to prevent the middle class from disappearing, adding that they need to create a political movement.

"I think if there is no place in the middle that anywhere can go to claw their way out of desperate hand to mouth existence, and the precariat, then that condemns us all to a precarious existence because there is no ladder," he added.

Meanwhile, Marsh & Parsons – London estate agents who specialize in the sale and rental of property in the British capital – said the average price for a three-bedroom house in central London increased by £729 ($1,218) a day in 2013.

The cost of homes in central London areas such as Chelsea, Kensington, Notting Hill, Clapham, and Fulham increased by 12.9 percent in 2013 and reached an average cost of £1.5 million ($2.5 million).