Londoners say UK politicians, media getting Ukraine crisis wrong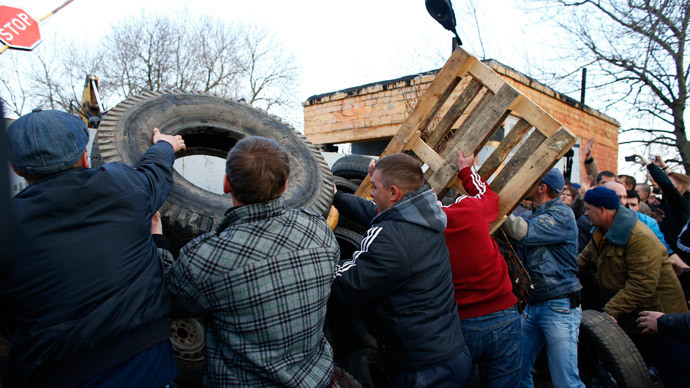 WORLDbytes, a citizen TV channel, hit the streets of London to gather residents' views on the situation in Ukraine. 'View on the Streets: Ukraine' found that the majority of those asked don't believe the version of events reported by mainstream UK media.
The TV channel asked people in the northeast London neighborhood of Dalston – a multicultural area considered to be left of center in its politics – about their opinions regarding Ukraine.
Cari Dingle, the director of WORLDwrite – an education charity which shot the footage and aims to gather the views of ordinary citizens on global events – told RT that Londoners appeared skeptical and bemused of their politicians and the way the Ukraine crisis has been spun in the British press.
She said the situation in Ukraine has worried her volunteers in the East End of London, which prompted her to determine whether people on the streets had the same views.
"They don't blame Russia or the Russian people for the mess that seems to be escalating in Ukraine," Dingle said.
"I wouldn't single out a particular newspaper, I think the major broadsheets can be the most academic and eloquent and informed, and I think it would be wrong to blame the messenger. I think there is a tendency now to simply echo what politicians' views are, and that's what the media tend to very uncritically do and pass it off as fact. In the prevailing circumstances, that has proved to be pretty disastrous and has included some explicit Russia bashing, and people on the ground don't buy it," she continued.
Dingle also said that the people spoken to – who are a reasonable reflection of what the population in this particular social group thinks – no longer rely on mainstream media alone for their news, adding that they are wary of repeating past foreign policy mistakes.
"Looking at what America and Britain have done in relation to Iraq, Afghanistan, Libya, Syria, which certainly hasn't made life great for anybody, I think it's on the back of that they then worry about the West getting in anybody's country and meddling," Dingle said.
She also pointed out the surprising degree of hypocrisy from political leaders in the UK – many of whom are questioning if Britain should still be in the EU, but yet are quite certain that's it's the right path for Ukraine.
"The debate about the EU is huge in the UK and then it seems bizarre that Cameron and Hague, along with Merkel, all suggest that that must be the direction that Ukraine takes, and of course lots of people say, 'well that's double standards isn't it,'" she said.
You can share this story on social media: