Aliens attack: Killer shrimps invade Britain while giant hornets approach
Published time: 16 Apr, 2014 17:43
Edited time: 27 Jun, 2014 08:22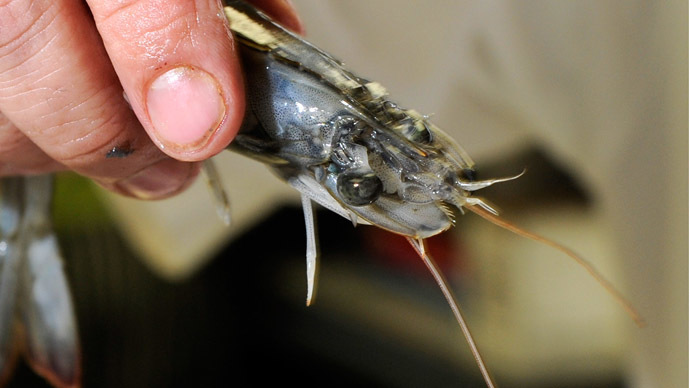 Alien wildlife species, such as killer shrimps and zebra mussels, are invading Britain at a rate never seen before, the UK parliament's green watchdog warns. Meanwhile, giant Asian hornets that have caused six deaths in France are on their way to the UK.
MPs from the Environmental Audit Committee urged the British government to introduce new laws to tackle invasive plants and animals which may pose a threat to the environment, economy and human health.
In 2012, 1,875 alien species were established in Britain, 282 of which had become "invasive," the committee said in a report published Wednesday. The figure of such species is growing by 10 a year, MPs warned.
"The growth of international trade and travel means more non-native plants and animals are being introduced into Britain than ever before and as our climate changes more species are likely to find a foothold here," said the chair of the committee, Labour MP Joan Walley, as cited on the watchdog's website. "Not all of these species will become 'invasive', but the ones that do can harm native wildlife, clog up our waterways, cause costly problems for homeowners and sometimes even harm human health."
However, it is too expensive to control or eradicate all invasive species, she said, so the government has to be smart and pick the fights that it knows it can win.
"We may just have to live with gray squirrels and rhododendrons in much of the UK, but we can and must control other invasive species – like the killer shrimp devastating eco-systems in our rivers and lakes. Identifying potentially invasive species prior to arrival is critical as once organisms like the frightening Asian Hornet are here, they can be very difficult to control."
The Asian Hornets (Vespa mandarinia)- which can grow up to 5 centimeters in length – have terrorized France since their arrival in the country in 2004 from the Far East in a shipment of Chinese pottery. According to the report, they have already killed six people in France.
The killer shrimp (Dikerogammarus villosus), a crustacean of up to 3 centimeters in length, originate in the Black and Caspian seas. According to evidence provided by the committee, the species was first detected in Cambridge in 2010. It currently appears in four places in England and Wales. But the risk is huge of the species "spreading out and destroying native invertebrates, fish eggs and impacting on fish stocks."
MPs also say that alien species, such as Japanese Knotweed, the Oak Processionary Moth, the Ruddy Duck and Zebra Mussels, not only have an impact on biodiversity by supplanting local species, but can also affect people's health and business.
For instance, zebra mussels – which got their name for striped patterns on their shells – clog pipes raising water treatment costs, the report says. Floating Pennywort deprives fish of oxygen, Giant Hogweed can give skin inflammations and the pollen of Common Ragweed causes asthma. Meanwhile, the Oak Processionary Moth can cause both respiratory and skin problems.
As for economic affect, dealing with Japanese Knotweed alone cost Britain £165 million. "The cost of removing it from the Olympic site was £70 million," the panel said in the report. Gray squirrels are estimated to cause £10 million of damage to trees in Britain each year.
The committee criticized the current system of 'listing' species to be monitored and controlled for being too slow. It believes that the government must implement legal changes to provide a mechanism for eradicating invasive species before they become established. Meanwhile, species on the existing national lists that are already well established in Britain should be reviewed.
"Scotland has introduced legal powers to be able to take effective action, quickly and comprehensively, when invasive species are identified as a threat. They use 'species control orders' to allow access to land to establish the presence of invasive species, and to implement any necessary control measures. The Law Commission have concluded that such powers should be replicated in England and Wales. We agree. The Government needs to get these implemented straightaway," Walley said.
The report was published to coincide with the vote at the European Parliament on a bill to introduce a blacklist to counter invasive alien species of plants, animals and insects on the territory of member states. On Wednesday, European MPs backed the legislation banning species declared to be of "Union concern." The bill has yet to be formally approved by the council of ministers.