Investigation launched into British waste plant explosion that sent 20 to hospital
Published time: 20 Mar, 2014 20:08
Edited time: 27 Jun, 2014 08:36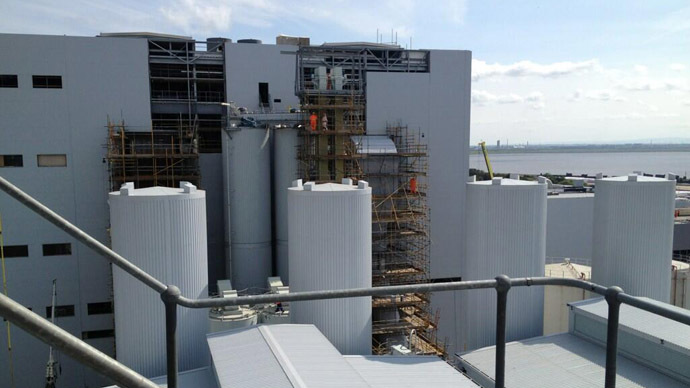 Investigations are being conducted into the reasons behind an explosion that took place at a waste plant in the north of England on Tuesday. Around 20 people were hospitalized as a result of the blast, according to local press.
The explosion at Runcorn Thermal Power Station occurred at around 12:00 GMT on Tuesday. The employees were thought to have come into close contact with calcium hydroxide (hydrated lime) from the explosion.

Some 20 workers were taken to Warrington Hospital's accident and emergency department, according to the Liverpool Echo. There, they were treated for breathing problems and eye irritation.

Viridor, the company that owns the plant, confirmed the explosion to local press, telling the Warrington Guardian that there had been a "spillage of Air Pollution Control Residue (mainly hydrated lime)" at the plant.

"The spillage occurred during the current commissioning phase of the plant by Keppel Seghers, the managing contractor on the site," a Viridor spokesperson said.

The hospital's accident and emergency department was forced to close its doors to the public in case of contamination.

"Warrington Hospital A&E is currently dealing with a major internal incident following a small chemical explosion at a plant in Runcorn this afternoon," a spokesman for Warrington Hospital told local paper Runcorn and Widnes World.

"A number of casualties have been admitted following the incident that has led to the department being locked down temporarily whilst the casualties are admitted," he confirmed.

Another hospital employee, Chris Horner, told the BBC that there had been "about 20" casualties. However, a spokesperson from Viridor stated that the number had been 16.

"A couple of patients who may have breathed in the powder are being kept in for observation but are not thought to be seriously hurt," Horner added.

The newly-commissioned Runcorn Thermal Power Station, located just east of Liverpool in the north of England, is managed by Keppel Seghers. It is the largest waste-to-energy plant of its type in Europe.

Keppel Seghers confirmed that there would be a full investigation into the matter. "The circumstances surrounding the incident are currently being explored and enquiries are continuing," a Cheshire Police spokesperson told Runcorn and Widnes World.