UK firm admits nuclear plant was shut down due to flooding fears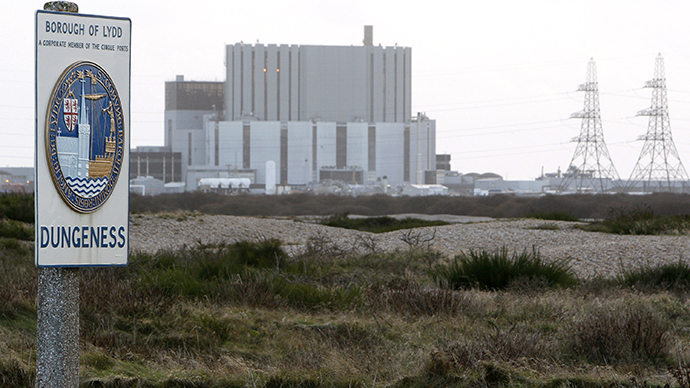 British Energy company EDF has admitted it shut down its nuclear reactors over fears of flooding. The statement comes after months of public pressure over withholding information as experts identified the potential risk of a Fukushima-style disaster.
Activists in Dungeness have repeatedly cautioned that rising water levels in the area could pose a serious risk to Dungeness power station on the Kent coast.

The 550-megawatt reactor was shut down for a period of five months, with minimal public disclosure about the occurrence last year. The internal EDF report showed that shingle bank sea defenses had not been "as robust as previously thought" – an assessment made known to the Office of Nuclear Regulation (ONR).

However, the only information given regarding the discovery was a simple statement on the EDF website to local media at the end of the five-month period: "Unit 22 at Dungeness station was taken offline on 20 May for maintenance work which includes completing improvements to flood defenses [sic] for extreme events."

EDF elaborated on the reactor shutdown only this Wednesday – following numerous media reports and outcry from activists.

"EDF Energy chose to take both reactors offline for two months in May 2013 to further improve flooding defense at Dungeness B," said EDF in a statement released on the company's website.

"We conservatively took the decision to take both reactors offline in order to undertake additional protection to cover extremely rare events; ones which might happen only one in 10,000 years."

"Part of this work included building a flood defense wall around the site which is due to be completed this month," EDF added.

Global concern over flood defenses surrounding nuclear power stations in coastal areas spiked following the March 2011 Fukushima disaster in eastern Japan when a crippling earthquake and tsunami caused a meltdown of three nuclear reactors at the facility, leading to the worst nuclear disaster since Chernobyl.

The UK nuclear energy sector has made resolutions to be more open about its activities after repeated accusations of secrecy.

EDF defended themselves after the public outrage at what was widely regarded as a cover-up: "No information was withheld. Local Kent community & media always regularly informed about Dungeness," the company wrote on Twitter.

Environmentalists had been expressing concern about the low-level of publicity surrounding the situation. Doug Parr, policy director of Greenpeace, told the Independent that it is deeply worrying that the French company "does not feel the need to tell the wider community about serious safety worries over flooding."

John Sauven, executive director of Greenpeace, predicted that Britain will see more extreme weather as the impacts of climate change take effect, and coastal nuclear power stations will then begin to face further dangers.

"The added costs of protecting the UK's ageing nuclear stock makes the case for nuclear expansion increasingly expensive, with UK taxpayers having to carry the risks," Sauven told the Guardian.
You can share this story on social media: