Swiss day in Vancouver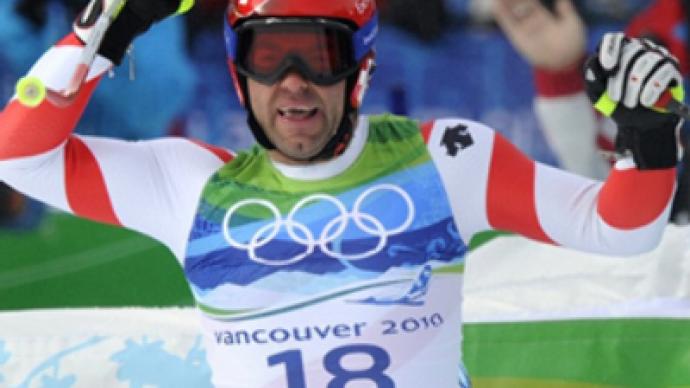 Switzerland dominated Day Four at the Vancouver Olympics as alpine skier Didier Defago and cross-country skier Dario Cologna brought gold medals No. 2 and No. 3 to the country of chocolate and banks.
Defago was the best in men's downhill, finishing seven hundredths of a second faster than three-time world champion and two time World Cup winner Aksel Lund Svindal of Norway, who took the silver.
Four-time world champ and two-time World Cup winner Bode Miller of the US was third.
Russians Alexander Khoroshilov and Stepan Zuev finished 45th and 54th respectively.
And then the men's cross-country skiing was also colored in red and white as Swiss Dario Cologna became the first to complete 15 kilometers at Whistler Olympic Park.

He registered an impressive time of 33 minutes and 33.6 second, beating second-place Pietro Piller Cottrer by 24 seconds. Lucas Bauer of the Czech Republic took bronze.

The race became a disaster for cross-country skiing specialists from Norway. The leader of the world season, Petter Northug, finished outside the Top 40, and the best member of the Norwegian team – Tord Asle Gjerdalen – was just 28th.
Team Russia also has nothing to boast with their top man, Maxim Vylegzhanin, finishing 9th and Alexander Legkov coming in the 15th position.

Four Russian skiers – Alexander Legkov, Maxim Vylegzhanin, Petr Sedov and Irina Khazova – were taken for doping tests at 6 o'clock in the morning on race day, which hampered there mood and preparations, though team coach Yury Charkovsky believes this wasn't the main reason for their poor results.
"The problem lies in psychology. Some were too anxious, someone failed to put themselves together. Our athletes are well prepared. We have no one to blame: we have no problems with training and with inventory. All the conditions were provided to us. It turns out that we are the ones to whom all the questions should be addressed," he said.
Swedish Kalla triumphs in 10-kilometer race
Charlotte Kalla has brought Sweden an Olympic gold medal in women's cross-country skiing, finishing first in a 10-kilometer race.
Charlotte Kalla (AFP Photo / Javier Soriano)
The silver medal went to Estonia's Kristina Smigun-Vaehi, while bronze was taken by Marit Bjoergen from Norway.
The Russian women failed to compete at their best form for the day, with the best of them – Evgenya Medvedeva – crossing the finish line in 7th place.

And despite failing to win any medals, Medvedeva says she's optimistic about her Olympic future.

"I can say that I'm very satisfied with the way I feel. Today was my best race of the season. I lost a lot more in previous races in skating stride, but now, after a small correction, I'll be able to fight," the skier told Sport-Express newspaper.
Three of her other compatriots – Olga Zavialova, Natalia Korosteleva and Irina Khazova – ended the race in the Top 20, but too far from the podium.
The leader of the world season, Justyna Kowalczyk of Poland, was unable to reach for the medals, coming in 5th.
Wescott repeats Turin snowboarding success
The United States' Seth Wescott upset Canadian fans by beating favorite Mike Robertson for the gold in the Snowboard Cross, becoming a double Olympic champion.
It was a second Olympic win for the American, who triumphed in the same event in Turin in 2006, and a second US gold in Vancouver.
Frenchman Tony Ramoin was third, while Russian Andrey Boldykov's performance ended in the semis.
China dominate pairs skating
The experienced Chinese pairs left no chance for their European rivals in pairs skating, taking gold and silver in Vancouver's Pacific Coliseum.
Shen Xue and Zhao Hongbo (RIA Novosti / Vladimir Baranov) Xue Shen and Hongbo Zhao maintained their lead from the short program, scoring 139.91 points in free skating and 216.57 points overall.
Hongbo Zhao collected his Olympic gold at the mature age of 36, while his partner is 31 years old.
Their fellow countrymen Qing Pang and Jian Tong produced the best performance in free skating on the night, which allowed them to take the silver, earning 213.31 points after two events.
Germany's Alyona Savchenko and Szolkowy Robin reached for bronze, while Russian hopefuls Yuko Kavaguti and Aleksandr Smirnov were left without any medals, and had to observe the podium from the comfort of 4th place.
They were third after the short program, just 2.50 points behind leaders Shen and Zhao, but failed to produce anything like the display that granted them the European champions title in Tallinn a couple of weeks ago.
Soviet and Russian skaters have not conceded a single Olympic gold in pair skating to rivals from other countries since 1964, but that tradition has now been broken.
Speed skater wins second gold for South Korea
South Korean speed skater Tae-Bum Mo was first in the men's 500 meter Race 2 of 2, delivering the second Vancouver gold for the Asian state.
He was followed by two athletes from Japan – Keiichiro Nagashima and Joji Kato, who took silver and bronze respectively.
The best of the Russians, Dmitry Lobkov, came 14th, 0.64 seconds behind the champion.
As such Russia remains in a slump with just one medal – Ivan Skobrev's bronze in the 5,000 meter speed skating event – after four days of competition at the 2010 Winter Games.
You can share this story on social media: