Sochi 2014 ambassador inspires with story of success after serious car crash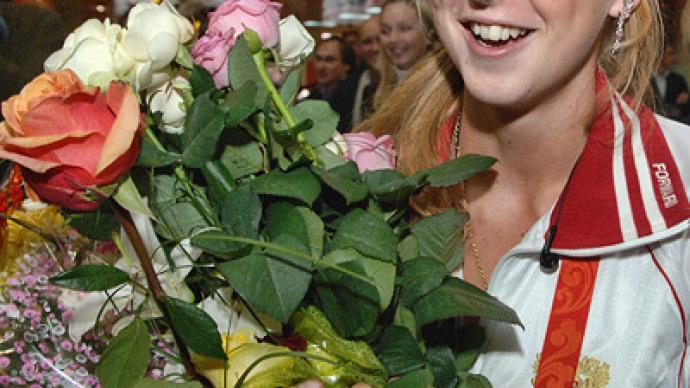 With less than 1000 days to go before the 2014 Winter Paralympics in Sochi, one of Russia's top paralympians, swimmer Olesya Vladykina, is using her incredible life-story to inspire others to overcome their disabilities.
Olesya Vladykina struck gold, and set a new world record in the women's 100 meter breaststroke at the 2008 Paralympic Games in Beijing.What was even more remarkable is that the 23-year-old did so just five months after she had lost her left arm in a car accident, while she was on holiday in Thailand and, prior to that, had contemplated quitting the sport.Her victory was a triumph of mental strength. And she is always ready to share her thoughts with those who desperately need it.The swimmer is now an ambassador for the Sochi 2014 Olympics. With 1000 days to go to the Games, physically disabled people in one of Moscow's rehabilitation centers had the chance to see and hear firsthand what it takes to accept the challenge of overcoming injuries and winning."Sport is what brought me back to life and made it worth living. I managed to return to swimming and win the Paralympics. That's what inspired me, and gave me strength. I discovered a new world, new people, and new goals to achieve," says Olesya.Olesya spoke to the Angels of Hope band, which consists of hearing-impaired youngsters. Even those who once might have lost hope might gain it back."I believe it's my duty to share my experiences and views with anyone who's interested no matter if they have disabilities or not. For some of them, it could be really encouraging. I know it works, as I've seen it with my own eyes, many times," stresses Vladykina."It's very nice of Olesya. She's a great example for all of us," says journalist Evgenia Voskoboynikova. "Some people would've given up but, once they saw her and knew her story, they didn't. She helps us change our lives. Well done, Olesya!"Despite her achievements, many would still call people like Olesya Vladykina disabled. But, in many respects, they prove to be more able than many of us.
You can share this story on social media: