Slippery slope? Ski queen Vonn not allowed to compete with men
Published time: 4 Nov, 2012 11:12
Edited time: 4 Nov, 2012 15:12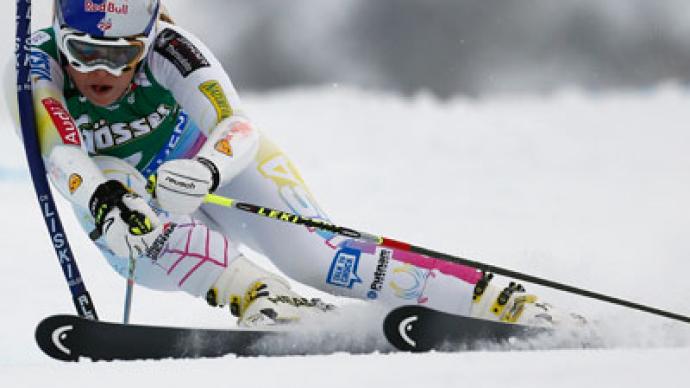 Lindsey Vonn's dream to compete in a men's World Cup downhill race has been rejected by the International Ski Federation.
The four-time overall World Cup champion wanted to enter the men's downhill on November 24 at Lake Louise, Alberta, where she has claimed nine wins of her 26 World Cup downhill victories, suggesting some of the fans to call the place "Lake Lindsey'"
Her dream won't come true, however, at least in the near future. The FIS council confirmed Saturday that "one gender is not entitled to participate in races of the other," adding that no exceptions will be made to the FIS Rules.
"It's very clear," FIS secretary general Sarah Lewis commented the issue for The Associated Press. "It's called the Men's World Cup and the Ladies' World Cup. The men race the Men's World Cup and the ladies race the Ladies' World Cup. FIS and World Cup points are not transferrable from one circuit to another.''
The FIS statement said Vonn "is welcome to submit a request to the organizing committee and jury to be a forerunner'' for the races. Forerunners test the course before races for safety and visibility.
The American's bid had been backed by the United States national federation and the head of the Canadian federation.
Vonn has not responded to the decision, while alpine Canada president Max Gartner didn't hide his disappointment.
"I saw it as a great opportunity to raise the profile of the sport by attracting interest from people who do not normally follow ski racing, particularly in North America," Gartner said in a statement. "It would have provided a great platform to showcase our sport and the amazing athletic performances of our athletes."
Although he expressed hope that "Lindsey gets a chance to fulfill her dream at a later date.''