'Never-ending second' incident mars Olympic fencing contest
Published time: 31 Jul, 2012 14:22
Edited time: 31 Jul, 2012 19:14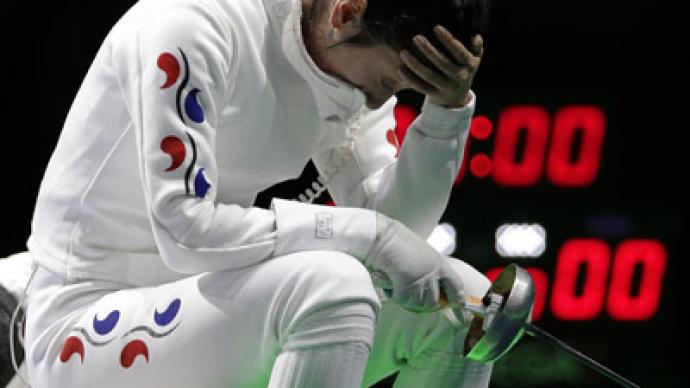 A clock scandal has hit Olympic fencing. South Korean Shin A-lam lost the women's individual epee semi-final against Britta Heidemann of Germany in the last second by a theoretically impossible three hits.
The match was tied 5-5 in sudden death when after a series of double touches the reigning Olympic champion Heidemann appeared to score in the final second.
Had it ended tied, Shin, who had been awarded priority and make it through to the gold-medal match, but a technical problem and an evident referee error intervened.
Shin didn't leave the fencing strip, which by rule would have meant accepting defeat at the Olympics. Instead she sat in front of 8,000 people with her legs crossed while referees considered her appeal. This delayed the competition for more than an hour.
The officials, however, had no choice but to reject the appeal as the referee had confirmed the last hit and they couldn't "change a question of fact."
"I think it's unfair because the one second was over," Shin said. "I should have won, so it's unfair."
"This was bad for everyone involved and for fencing in general," Heidermann echoed her opponent. "It's too bad that it happened at the Olympics. I think such decisions should not take so long."
Both women, apparently distracted by the episode, later lost their next matches.