Swimming records about to fall – four-time Olympic champ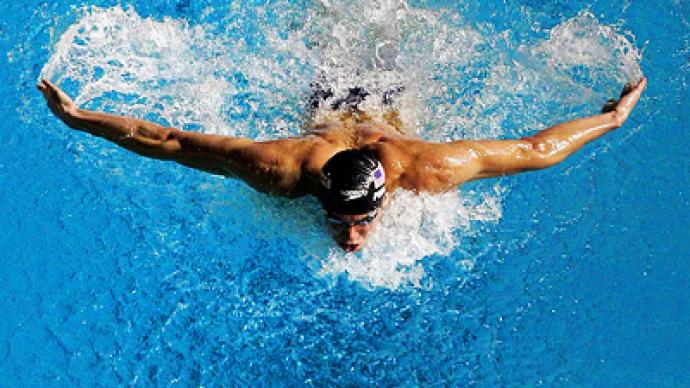 Some of the world's top swimmers have been competing in Saint Petersburg in the annual Vladimir Salnikov Cup.
It started four years ago in honor of the four-time Olympic champion and world record holder, who predicts more records are about to be broken.The Vladimir Salnikov Cup was established with a straightforward plan: to increase the popularity of swimming, globally.While there is no way to gauge the empiric effect of this competition on swimming worldwide, in itself it has grown to 350 participants from 15 countries.And Vladimir Salnikov himself promises further advancement of this event next year."I can guarantee you that next year we'll have even more stars, because this year many athletes said that though they can't make it now, they will definitely come next year. And we are talking here about real A-list athletes. I shall not disclose their names, but I can say that the total number of Gold medals they won at the Olympic Games, if put together, exceeds ten," he said.Despite a grueling World Championships in Dubai recently, the swimmers managed to put on a good show.For some, it was another chance to better their result; for others, an opportunity to close the year on yet another high note.Russian Olympic silver medalist Nikita Lobintsev and Aleksandra Gerasimenia from Belarus won the tournament and its prize – the Silver Shark."I'm really tired after Dubai where I swam more than everyone and competed in the mornings and evenings. I really like this pool however, this is where I became the champion of Russia for the first time and got a major push for my career," Lobintsev said. "Swimming is the most important thing in my life," says the legendary Soviet swimmer Vladimir Salnikov.Recently appointed president of the Russian swimming federation, he faces a tough task in raising the national team out of the so-called slump which many pundits believe it is in.But the four-time Olympic champion is certain the country's swimmers are evolving along with the rest of the world."Five world records were set at the World Championships in Dubai, which is a breakthrough. Our athletes set a world record too. This is a tendency that proves the crisis has been overcome. Some pessimists were saying that this would be a long crisis and we would not see any new records before the Olympics. I am convinced that records will be set at the World Cup in Shanghai," Vladimir Salnikov commented.The Russian swimmers finished second behind the US at the latest biannual world championships in Dubai.The result was a strong statement which showed that Russia is back, hungry for medals and a far cry from the team that only managed sixth place in the same competition two years ago.Back then, Russia also disappointed at the Beijing Olympics, finishing tenth place overall. The athletes will be looking to stay on course for the podium at the 2012 London Summer Games and it is no secret that early preparation could be the key.The Vladimir Salnikov Cup is the year's last competition and a final chance for the athletes to give an exceptional performance in front of their home crowd. It is safe to say that Russia's legendary swimmer, four-time Olympic champion Vladimir Salnikov has been instrumental yet again in sports advancement in Russia and abroad.
You can share this story on social media: