Big hopes for Russia ahead of new rhythmic gymnastics season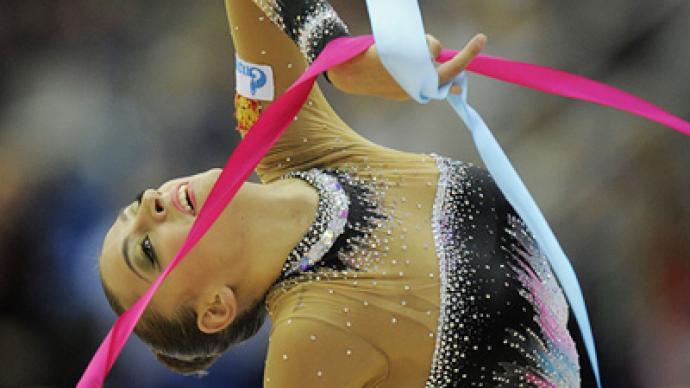 Preparations are in full swing ahead of the first leg of the Rhythmic Gymnastics Grand Prix Series due to take place in Moscow in a week's time. RT caught up with the Russian team to see how they are getting ready for the new season.
Rhythmic gymnastics has always been one of Russia's trademark sports, and while hard times have hit some other athletes recently, the gymnasts maintain their top billing under coach Irina Viner. The 2011 season is an important period for the team with the world championships right ahead, and next summer's London Olympics fast approaching. The major part of the squad will start the season at the Moscow Grand Prix next week."Evgeniya Kanaeva has an exciting new program. We got a chance to see it at the recent training finals in Samara. Darya Kondakova didn't make it there because she was injured but we hope she'll be all right next week. Yana Lukonina is also here, having passed the World Cup qualification round in Montreal. They will perform in all four disciplines here in Moscow," says Russia's gymnastics coach Amina Zaripova.Russia's dominance in the sport has been impressive, and a lot is anticipated from the national team in London 2012. However, the country's main hopeful Evegniya Kanaeva avoids making a forecast with more than a year still to go before the Games."I can't say anything about the London Olympics yet. It would be pointless because anything can happen in sports. Obviously, every athlete in this building really wants to be there," she shares.Despite the overall success, Irina Vinner says there is room for improvement – after the team was overshadowed by Belarus and Italy in the all-around groups at the last two World Championships."The thing is that we have lost the group all-around competitions for two years in a row now. We are losing Olympic medals, can't even get the silver – we've been awarded bronze twice," she explains. "The roster has now changed and we've changed the coaches so we will try to make sure the juniors perform well. It's a very young team but that will no longer be an excuse for us."The Russian juniors are also part of the big plan. Vinner says most of them will be involved on either competitive or exhibition level at major events."We've got some good juniors, all girls, very pretty. We can't forget that children grow up to become adults. It won't matter where they came from, anyone who has achieved a good sporting result will get a chance to perform," says Vinner. The Moscow Grand Prix, featuring gymnasts from 35 countries, will take place at the Luzhniki arena next weekend, promising a lot of classy performances, as well as the first in-depth look at the new kids on the block.
You can share this story on social media: