Just competing in Sochi 2014 would be a victory – Plyushchenko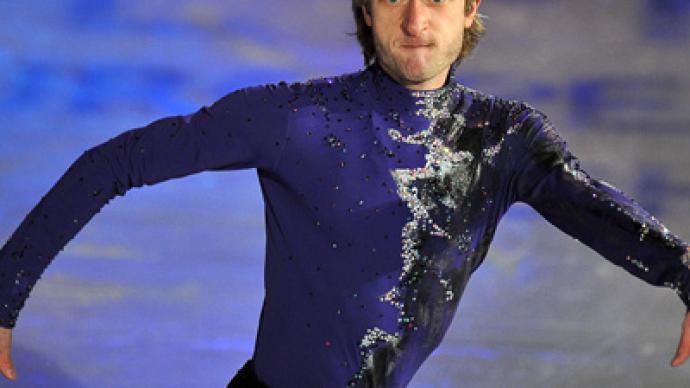 Newly crowned European figure skating champion Evgeny Plyushchenko says he's not giving up on his Sochi 2014 dream, despite an injured knee and back.
Plyushchenko, who returned to amateur skating for the second time in his career, set an all-time European scoring record of 261.23 points to snatch gold in Sheffield, England over the weekend.  "I feel like I went back to 10 years ago," the 29-year-old told the Team Russia website. "In fact, I began a new phase of my career. I am not one of those people, who start shooting dividends from a single Olympic Games they win. Any athlete wants to do what he does best, which is compete. For me now the most important motivation are the Sochi 2014 Games. This will be my fourth Olympics. I don't know what the outcome will be, but the very participation in them will already be a victory."
The Russian, who competed at the Europeans with serious heath problems, confessed that the qualifying performance was the hardest for him at the championship.   "The doctors gave me five anesthetic injections – two in the back and three in the knee," he said. "Physically I was not ready to do a long program and got very tired at the end."
The victory in Sheffield became the seventh European gold in Plyushchenko's trophy cabinet, in which there's also gold from the 2006 Olympics in Turin and three world champion's titles. "I've not fought any rivals for a long time, thus the competition in figure skating is increasing every year," the skater explained.  "There are many strong athletes. But I'm only trying to overcome myself, competing despite pain sometimes. In training, the same jump sometimes turns out harmless and sometimes creates an intolerable ache. I'm not complaining. Everything is going fine."
Plyushchenko also said that his injured knee is to go under the knife in Munch in February.  "Hopefully, the surgery will be successful and after one and a half months I'll return to training," he said.  
According to the athlete, the German doctors are giving him a three-year guarantee on their work.
"I don't need three, two will be enough," Plyushchenko said.
After his recovery, the Russian promises to regularly compete in world and European championships as well as Grand Prix events before the home Olympics in Sochi 2014.
You can share this story on social media: