Gays behind wrestling's Olympic demotion?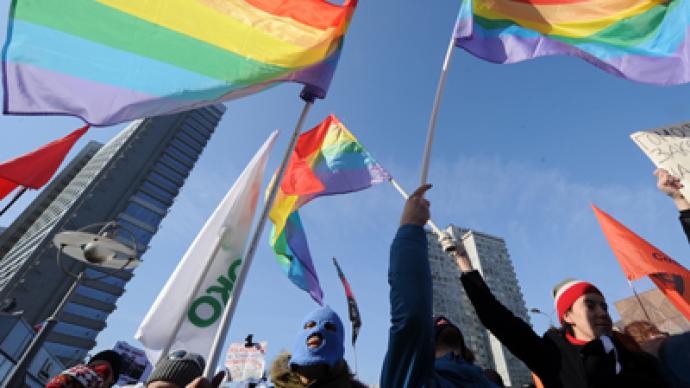 With no official comment from the International Olympic Committee on depriving wrestling of its Olympic status experts and fans continue to guess. Some are suggesting conspiracy.
Vladimir Uruimagov, who has coached two Olympic champions in Greco-Roman wrestling – heavyweight Khasan Baroev, who won in Athens in 2004, and London 2012 champion in 84 kg category Alan Khugaev, suspects gay activists to be behind the move. "If they expel wrestling now, that means that gays will soon run the whole world," the R-Sport agency quotes Uruimagov as saying. "It turns out this committee is headed by representatives of these minorities."Uruimagov warns the future of humanity is now at stake. "It is necessary for millions around the world to understand that this is a man's sport and to understand the need to continue the human race to go out and explain their position to the Olympic Committee," he said. "We should prove and explain that in any other case there is no future."On Tuesday, the International Olympic Committee's executive board voted to drop the sport, which is one of the oldest in the Olympic program, into a category of eight sports, including baseball/softball, karate, roller skating, sport climbing, squash, wakeboarding and wushu, vying for one place in 2020. The winner will be announced in September at the IOC meeting in Buenos Aires. An unnamed IOC representative, who attended the voting Tuesday, said poor TV ratings and a lack of spectators' interest during the London Olympics could be behind the reasons for this decision. For decades Russia has been among the leaders in the sport, having won four gold medals at the most recent Games in London, so Tuesday's move has worried the country's Olympic boss Aleksandr Zhukov. "I can't imagine the Olympics without wrestling. It's unfair to rob millions of children, engaged in wrestling in Russia, of their Olympic dream," he told a news-conference on Wednesday. "We will use every opportunity to keep wrestling in the Olympic program. If I had known wrestling could be dropped from the Olympics I would have spoken to [the IOC president Jacques] Rogge in person. But no one expected this," Zhukov said."Wushu? Roller skating? Sport climbing? I respect all these disciplines, but wrestling is much more important," Zhukov added.
You can share this story on social media: