Northug takes gold on home snow ahead of Russians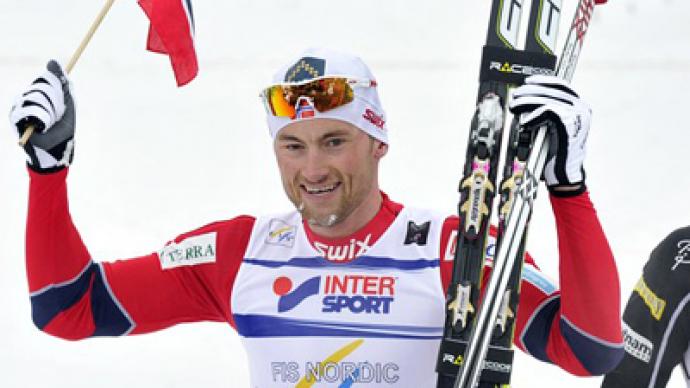 Petter Northug showed his trademark sprint finish to defend his title in the 30-kilometer pursuit at the Nordic World Skiing Championships in Oslo. Two Russians Maksim Vylegzhanin and Ilia Chernousov settled for silver and bronze respectively.
Local hero Northug was the pre-race favorite to top the podium in Oslo and did not disappoint his home crowd. He went in front of his rivals going into the ski stadium and pulled away on the final stretch to finish in 1 hour 10 minutes 40.1 seconds in front of a large crowd of flag-waving fans."It was a great day," Northug said. "It was amazing to race with that crowd."Vylegzhanin trailed the Norwegian by 0.7 seconds, Chernousov, finished 1.3 seconds back in third.It was the third individual world title for the 25-year-old. Earlier this week he had to settle for silver in the sprint three days ago behind Scandinavian rival Marcus Hellner, who finished sixth on Sunday.Meanwhile, Vylegzhanin and Chernousov claimed their first medals for Russia at this year's event. "He's very strong approaching the finish line," Vylegzhanin said of the winner. "He was too good today, but we're on the case."
You can share this story on social media: