Giants too big for Patriots in Superbowl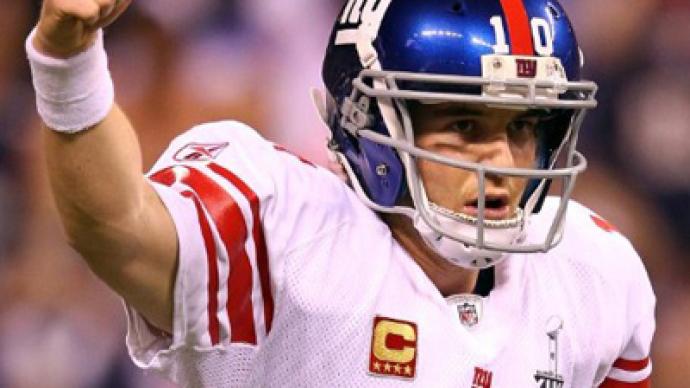 The Giants are the new Superbowl champions, with quarterback Eli Manning leading the New York side to a dramatic 21-17 victory over the New England Patriots in Indianapolis.
The Giants were faster off the blocks at the Lucas Oil stadium this time round as Manning combined with Victor Cruz for a 9-0 lead.However, New England responded and had their noses in front at half-time thanks to a field goal and a touchdown after Tom Brady fed Danny Woodhead.The momentum stayed with the Pats after the intermission. New England stretched their lead to 17-9 when Brady fired the ball to Aaron Hernandez for another touchdown.But there was still time for a fightback, and a pair of field goals brought the Giants to within two points.New York then went in front with a late drive. First, Mario Manningham caught a 38-yard pass from Manning and that led to the decisive moment as the Patriots allowed Ahmad Bradshaw to score so they could get the ball back before the clock ran out."It was a perfect throw," Manningham told the NFL's official website. "Eli just put the ball on the money. I knew where I was on the sideline. I knew I didn't have that much room. Good thing I wear size 11 shoes, because if I wore 11-and-a-halfs, I don't think I'd have been in."But the Patriots' gamble failed. One last pass from Brady couldn't find a man, with the ball going behind Rob Gronkowski.The Giants collected a 21-17 victory to once again ruin New England's perfect season in an echo of events four years ago. "This isn't about one person," Manning is cited by the Miami Herald as saying. "This is about a team coming together, getting this win. I'm just proud of our guys, proud of the team, and how we fought all year. Never got discouraged, kept their faith and kept their confidence and just fought to the very end."The New York team have won the Superbowl for the fourth time in their history, with previous triumphs coming in 1986, 1990 and 2007.
You can share this story on social media: