"I am no nationalist" – Emelianenko Jr.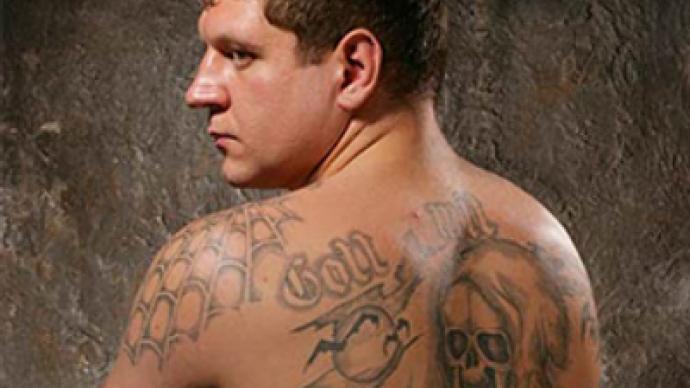 Mixed martial arts fighter Aleksandr Emelianenko had to rely on words instead of fists after a TV show accused him of links with nationalists.
The sportsman has issued an open letter in which he states that claims by Russia's NTV channel journalists are false and that he is ready to defend his honor in court.
"Dear Friends,
On March 20, in an NTV channel program 'Russkie Sensatsii', I was presented as a nationalist. I want to publicly declare that this report is slanderous.
I am a sportsman. I am not and never will be a supporter of any political extremist movement. I do not endorse their views and do not want to be a tool of their propaganda!
I support the development of mixed martial arts in Russia as an independent sport. I give young athletes the opportunity to realize their skills themselves, by organizing my own team – the AE TEAM. Athletes of different nationalities are presented in my team. By their sporting success they have proved that they are ready and able to perform together with me. I respect them and appreciate the fact that such promising athletes like Mikhail Malyutin, Aleksandr Butenko, Artur Guseinov, Adlan Amagov, Shamil Abdulmuslimov defend the colors of my team.
Yes, I am equated with Roman Zentsov [famous MMA fighter and leader of nationalist movement Soprotivlenie], but I do not share his political extremist views, do not support his movement and have never participated in any activities of his organization.
I want to take part in sports, perform for my country and bring it medals and titles. I don't want to be involved in political games, do not want to be a bargaining chip in such a dispute. I have kids. I want them to grow up in a democratic country, devoid of national, religious and other prejudices!
So I once again want to say that I do not support and do not share the views of any political extremist movements, and I hope that I will not be mentioned in connection with them, especially in attempts to increase their ratings. As for the unfair compiling of materials by NTV channel, I see only one way for myself – to clarify our relationship in court under the claim of protection of my honor and dignity.
I ask for your support! I more than ever need the support of my fans, your support! Thank you for being with me, in spite of all those defamatory stories!
Sincerely, Aleksandr Emelianenko."
Aleksandr Emelianenko made his name in MMA fighting, where he first appeared in the ring in 2003. The 28-year-old has collected 15 wins in 18 bouts since then.
He is the younger brother of Fedor Emelianenko – the man regarded by many as the best mixed martial arts fighter of all time.
You can share this story on social media: