Kavaguti, Smirnov settle for Turin bronze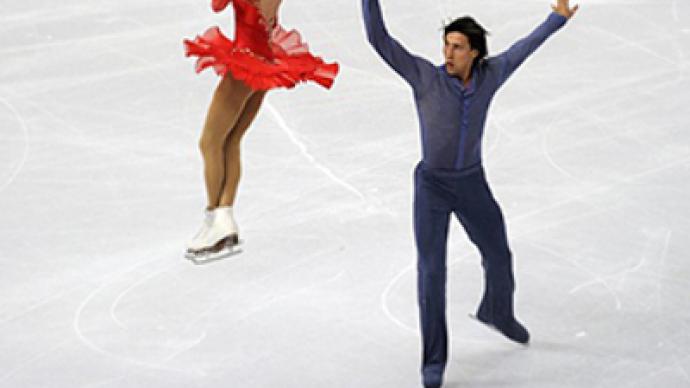 The Russian pair of Yuko Kavaguti and Alexander Smirnov have taken bronze at the figure skating world championships in Turin, Italy.
The duo were sitting in second – two points behind tournament's favorites Pang Qing and Tong Jian of China – after the short program.
But it was gold they were looking for in the free-skate discipline as Tamara Moskvina's pupils included a quadruple throw-jump in their program.
But the move did not pay off. Kavaguti fell on the ice, failing to execute the difficult element and than committed another mistake on the second throw-jump.
Such a performance did not allow the Russians to maintain even their second spot, letting Germany's Alyona Savchenko and Robin Szolkowy, who won two of the last World Championships, overtake them by 1 point.
The Russians, though, say taking a risk was the right thing to do.
"I do not regret that we dared to perform a quadruple throw jump. We did it twice during the workout at eight in the morning, despite the fact we had very little time to sleep after the short program. That same morning we agreed with Yuko greed that we would try the throw jump in the warm-up. We asked Tamara Moskvina's permission. She said that we could fight for first place even without quadruple throw jump, if we skated cleanly. But it's been our dream for a long time: to make a quadruple-throw jump in a competitive event," Alexander Smirnov told Mayak radio.
"We were executing it cleanly in training. Making our fans applaud. But there's a big difference between training and competition. But you have to start one day. And then, lo and behold, at the Olympic Games in Sochi we will surprise everybody with this or, perhaps, some other element. We must try to do everything in competitive events – don't hesitate, just go and perform. Maybe we had some doubts today," he added.
The gold went to Pang Qing and Tong Jian. The Chinese produced a clean free skate display, and cruised to their second career World Championship win, with the result of 211.39 points – more than 6 points ahead of the Germans.
The Russian pair of Maria Mukhortova and Maxim Trankov finished the tournament in 4th place, while their countrymen, Vera Bazarova and Yury Larionov, produced an 8th result at their first World Championships.
Takahashi takes lead in men's competition
Olympic bronze medalist Daisuke Takahashi of Japan has won the men's short program, scoring 89.30 points to go ahead of Canada's Patrick Chan and Frenchman Brian Joubert.
Russian skaters have nothing to boast about from the night. Sergey Voronov showed only an 11th placing to give up all medal hopes. Artyom Borodulin was unable to finish his short program as his blade of his skate cracked.
The fate of the medals will be decided in free skate on Thursday.
You can share this story on social media: