Queen's return: Isinbayeva sets new world record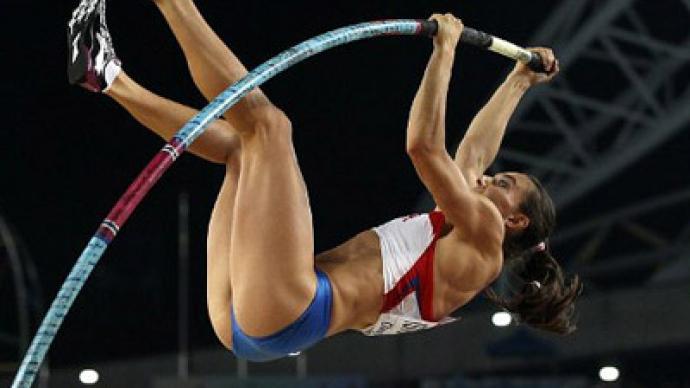 Russian pole vault queen Elena Isinbayeva has broken her indoor world record. The Russian jumped an impressing 5.01 meters at the XL Galan meeting in Stockholm.
Having sunk so deep, Isinbaeva has recovered to seek an unparalleled third-straight Olympic gold in London.The 29-year-old, who has not won a major championship since the last Olympics, beat her previous best of five meters.The attempt was a massive 29 centimeters higher than that of her nearest rivals, Holly Bleasdale of Britain and Cuban Yarisley Silva, who came second and third respectively.Afterwards Isinbayeva declared her leap marked her "real comeback.""I was ready to jump this high. In training I've done this two times. My coach told me that I could easily do it at the competition if I do the technical things right," Reuters quotes Isinbayeva as saying.Asked if she could continue to go higher, Isinbayeva was more than explicit."Yes, yes of course. Otherwise I wouldn't continue to train," she said, adding: "5.01 is pretty high but once I'm on the track I don't feel it's that high. Sometimes I see this height like it was 4.15 and tonight (it felt like) the bar was much lower than usual for me."The Russian now heads to next week's Indoor World Championship in Istanbul as the clear favorite.
You can share this story on social media: