Isinbaeva, Bekele and Richards share Golden League jackpot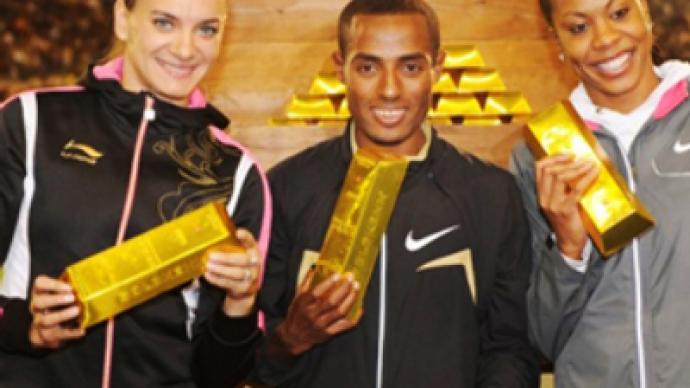 The queen of pole vaulting Elena Isinbaeva has grabbed a share of a million-dollar jackpot for the second time in her career.
Though failing to deliver at the world Championships in Berlin last month, the Russian made sure she kept her perfect record at this season's Golden League events.
After smashing her own world record last week, she cleared 4 meters 70 centimeters in Brussels last night to make it six wins out of six.
That gave the 27-year-old a share of the million dollars on offer to athletes, who remained unbeaten in this season's Golden League.
Two others also got their hands on the cash. American Sanya Richards was once again peerless in the women's 400 metres, and Kenenisa Bekele stayed unbeaten in the men's 5,000 meters.
The threesome split the jackpot and they are the last winners of the Golden League, as the athletics federation plans to launch a bigger Diamond League from next year.
Kenya beat oldest world record
Still in the Golden League, sprint king Usain Bolt made it a one-man show in the men's 200 meters.
A bit of posing to warm up the audience was followed a blistering performance as the triple-world and Olympic champion beat the damp conditions to clock an impressive 19.57 seconds. It is the fourth fastest time in history.
And though there was no new record for Bolt, the oldest record in athletics did tumble in Belgium. A Kenyan quartet shattered the world-record in the rarely-run 4x1500 meters relay, with the result of 14:36.23.
The previous best was set by the West Germans 32 years ago.
You can share this story on social media: