Kazakh record-breaker leaves weightlifter Ivanov behind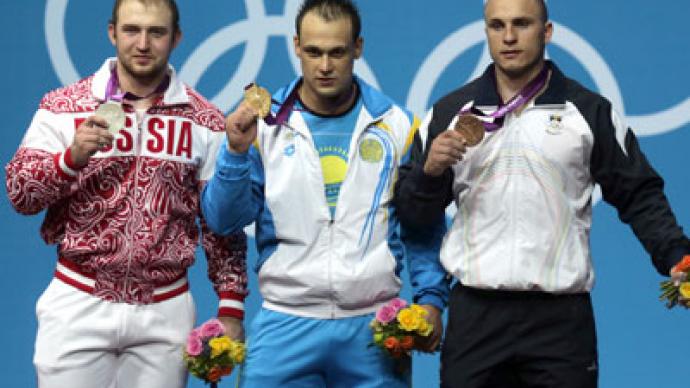 Russian weightlifter Aleksandr Ivanov came second in the 94kg category at the London Games, while Ilya Ilyin of Kazakhstan bettered the clean and jerk and total weight world records to snatch gold.
­Ilyin lifted 233 kilograms in his final clean and jerk attempt, with his total of 418 kilograms beating the previous 1999 world record by a stunning six kilograms. The Kazakh became the first weightlifter to defend his gold from Beijing 2008 at the London Olympics."All the guys were great," Ilyin told Sport-Express. "Have you seen what they were doing? If not for them, I would've never lifted such weights. Ivanov was also awesome. We were standing on the podium and he was telling me about his calluses, and I replied, 'Relax, listen, you are one of the best!' I want to thank everybody who supported me. I felt that energy. What's the main reason for my success? I just put my heart and soul into training."Ivanov's total reached 409 kilograms, which was enough to leave Moldova's Anatoli Ciricu and compatriot Andrey Demanov behind. Both Ciricu and Demanov lifted 407 kilograms, but the bronze went to the Moldovan because of lower body weight.