German crowd wins hearts of Russian Christmas race-winners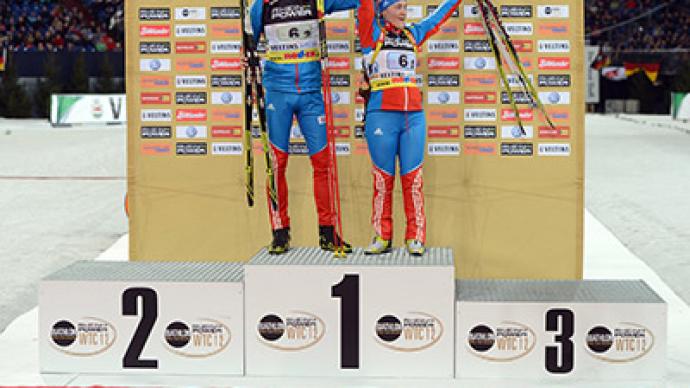 Russian Anton Shipulin and Ekaterina Yurlova, who won the traditional biathlon Christmas race on Saturday night, have specially mentioned the atmosphere at the event in German Gelsenkirchen.
The Russian duo were fourth after the sprint race, but reached perfection in pursuit to clinch the win in front of a 60,000-strong crowd at the Veltins Arena, the home ground for German Bundesliga club Schalke 04, which hosts the annual biathlon race, officially called the World Team Challenge.French athletes Martin Fourcade and Marie Dorin Habert took second place, finishing 7.3 seconds behind, with Norwegian Lars Helge Birkeland and Fanny Welle-Strand Horn less than a second on third."Everything was superb today. The contest was really tense until the final shooting, and I'm glad we managed to win," the Russian Biathlon Union website quotes Shipulin as saying. Both sportsmen admitted the most amazing this night was the atmosphere at the Veltins Arena."This was my first international exhibition event," Yurlova as saying. "I really enjoyed the race, especially the spectators, who supported each and every sportsman regardless of nationality. It was great." "The organizers usually invite the winners to take part in the next event and we will return here with pleasure next year, keeping victory in mind of course," Yurlova added.
You can share this story on social media: