Russian Futsal team too hospitable at home international event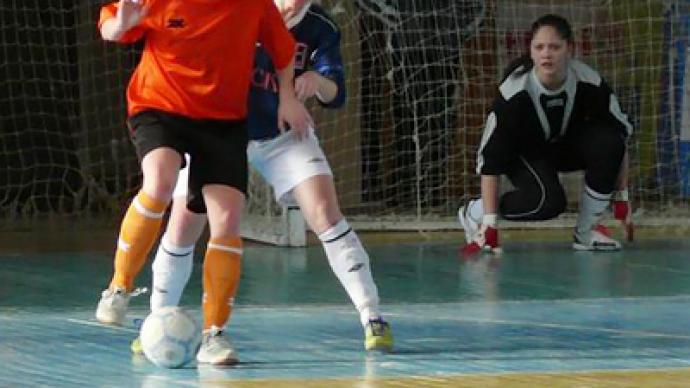 Moscow has played host to the cream of women's futsal this weekend as RT's Konstantin Potapov reports.
Russia has a strong side in men's futsal, with the national team three-time semifinalists at World Cups, and winning third place in 1996. Women's futsal tournaments have not been around for long, but the Russian team has already surpassed the men's achievements. They have claimed three European titles and finished third at the last World Cup. The sport's top brass say that they have big plans for development in Russia."We have a Futsal project at schools and universities. We hold competitions across the country and 50 per cent of all universities are participating. We are making our first steps but it's a big achievement as there is no such project in the world," says Semyon Andreev, President of the Russian Futsal Association.The inaugural futsal tournament dedicated to the victory in World War II was held in 2009, and last year it became an international event. Alongside the hosts this year, Spain, Hungary and Ukraine are also taking part.In their opener, Russia faced the Hungarians. Underdogs on paper, the visitors were solid in defense, and happy to play a counter-attacking game. And that paid dividends, as they broke the deadlock in the second half.The Russians had a plethora of scoring chances, but lacked the killer instinct in front of goal.Ranked fourth in the world, the home side piled on the pressure as they went in search of an equalizer. And finally Aleksandra Smorodova made it all square with her long-range effort. Russia threw everything at their opponents late on, but were guilty of wasting far too many opportunities – 1-1 was the final score."We were unlucky tonight. That's the only reason we didn't win. We followed the plan and our passing moves were good. We had full possession. The ball is round and everything can happen," Aleksandra Smorodova said."It's disappointing we didn't win. We knew how to play against them. We had lots of chances but lacked some emotion. The Russian championship has already finished and our physical condition isn't good enough after the exhausting season," said Team Russia manger Evgeny Kuzmin.Futsal is becoming more and more popular worldwide. If the biggest trend setter in the sport, Brazil, can promote it to become an Olympic discipline at the 2016 Games, that will mean they can host it in Rio.And with the glamour Brazil bring to anything involving football, that is likely to mean that the popularity of futsal will continue to grow and grow.
You can share this story on social media: