World's top freeriders try out Sochi slopes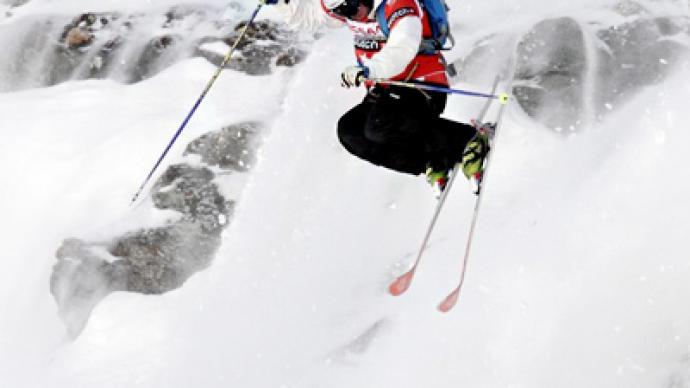 The Freeride World Tour took to the slopes of Sochi on weekend where the top skiers and snowboaders negotiated sheer drops in search of victory.
Krasnaya Polyana – the resort that will stage the alpine ski events of the 2014 winter Olympics – is becoming a brand name that resonates around the world. However, the worlds top freeriders did not need prepared tracks, as all they wanted was an abundance of fresh snow and good weather on the slopes of the Aigba ridge at Rosa Khutor."There's been some freeskiing, freeriding and heliskiing for 20 years in the region. People for all over the world came because there are some steep interesting mountains with snow that grips to the mountain and gives you very good lines. Plus the hospitality of the Russian people is something very special," Nicolas Hale-Woods, World Tour founder and organizer, said.Twelve years ago, a rider at Krasnaya Polyana could only reach the top of the mountain by helicopter. But now anyone can get there by ski lift.Nevertheless, freeride contests are more "natural". It is all about enjoying God-given terrain in iconic mountain resorts, which inspire the athletes to test their most creative skills on a line they choose.Sochi became the fourth stop on the World Tour for flying skiers and snowboarders this year as the tournament increased from four to six events.Freeriding is contradictory, in that it is not, strictly speaking, a competition. But some riders still want to be on the very top of their sport, which is why judges are needed.Riders do not adjust to a judging system, the system adapts for them. Heart-stopping backflip cliff jumps through cornices and jaw-dropping turns is what the judges witness.And this time, the riders produced an outstanding show with an almost perfect run from Samuel Anthamatten, who won in skiing, while Flo Orley who won the snowboarding in style and powered up to the top of the rankings.With two stages to go, a tough competition for the world crown is still underway.
You can share this story on social media: