Russian volleyball team claim World League title
Published time: 10 Jul, 2011 21:08
Edited time: 11 Jul, 2011 14:36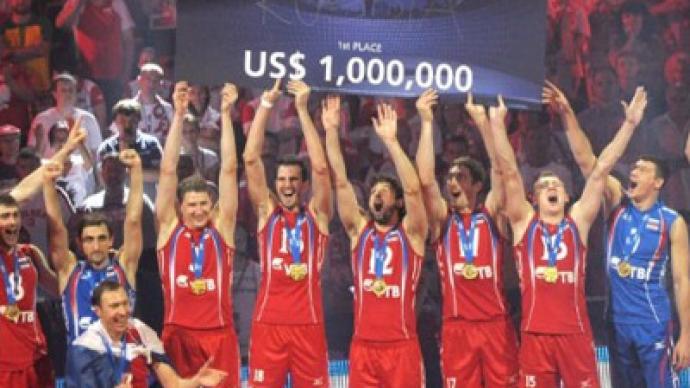 Russia's volleyball side are the new FIVB World League champions after besting last year's winners Brazil in the final in the Polish city of Gdansk.
­The Russians displayed stunning form throughout the competition, losing just one game in the Intercontinental Round.

Defeat at the hands of Bulgaria eventually came, but only after Vladimir Alekhno's men guaranteed themselves first-place qualification for the Final Round.

Russia was unbeatable in the elimination-round Final 8, topping Brazil 3-0 and giving away just one away to host Poland in the semifinal.

The super-tight final game saw the teams level at 2-2 after four sets, with the winner to be decided in the tie-break.  

It was Alekhno's charges who took a three-point lead in the middle of the fifth set. The South Americans' attempts to get back into the game were stopped by fatigue, which led to two failed serves and several unforced errors.

Fittingly, the winning point for Russia came from the World League's most valuable player, Maksim Mikhailov, who scored 26 points on the night.   

The game ended with a 3:2 scoreline (23:25, 27:25, 25:23, 22:25, 15:11).

"I hope this final was nice to watch for everybody, it was a real volleyball fiesta," Russia captain Taras Khtei is cited by FIVB official website. "I would like to thank the Polish fans. You will stay in our hearts for a long time, along with these gold medals. I think I can now agree with the opinion of Reid Priddy [US team's coach], that we are one of the best teams in the world, because we finally sealed it with a success. There is an opinion in our country that we should be the leaders, so we will work on it and we will try to stay on top. Our coach played a huge role in this success, because he came to our team and rebuilt everything. It is priceless."

The Russian team's second FIVB World League triumph came nine years after they first claimed the prestigious event, in 2002. They have been stopped in the final on five other occasions.       

Meanwhile, Poland gave the home fans something to cheer about by beating Argentina in straight sets in the clash for the bronze medal, 3-0 (25:18, 25:23, 25:22).