First Saudi woman fighting on Olympic mat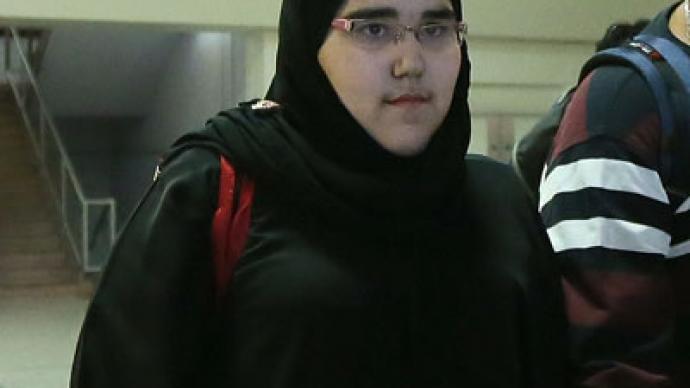 Her stay at the Olympics lasted a little more than a minute, but it will go down as one of the most memorable moments of the London Games. A young judo fighter has become the first female athlete to compete at the Olympics for Saudi Arabia.
Wojdan Ali Seraj Abdulrahim Shahrkhani's quick defeat on the mat during the first round of the Judo +78 kg Olympic tournament was being hailed as a victory for all women in the conservative Gulf kingdom.
She was only able to compete in judo after a compromise between Olympic organizers, the International Judo Federation and Saudi officials that cleared the way for her to wear a modified hijab.
Even that was unacceptable to hard-liners, who said she was dishonoring herself by fighting in front of men, including the male referee and judges.
The crowd stood in ovation when Shahrkhani, wearing judo dress and what appeared to be a tight-fitting black cap, stepped onto the mat.
Her opponent, Puerto Rico's Melissa Mojica, like everyone else in the competition holds a high-level black belt, while Shahrkhani has only attained a blue. So it was not about winning.
"They are champions she is fighting, and my daughter, for her it is the first competition," her father, Ali, an international judo referee, stressed.
After a minute-long fight the 18-year-old walked with her father past a scrum of journalists and television cameras.
"I am happy to be at the Olympics," she said in Arabic. "Unfortunately, we did not win a medal, but in the future we will and I will be a star for women's participation."
Well, she has taken the first and most important step to make her dream come true.