Bolt sets new mark in 200m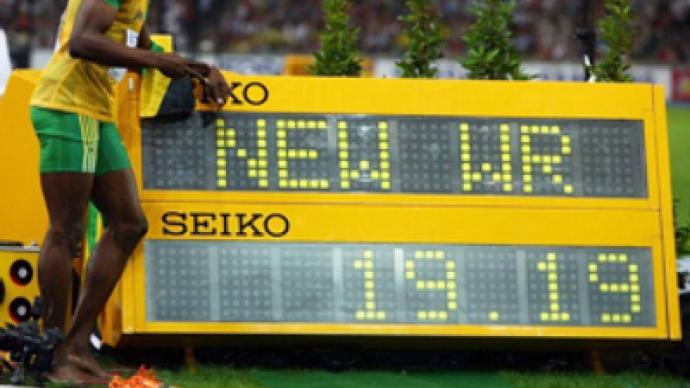 World athletics superstar Usain Bolt has set yet another new world record, this time in the men's 200 metres.
The Jamaican sprinter left the rest in his wake, powering away from the pack and crossing the line in 19.19 seconds, some 0.11 seconds faster than his previous world's best.
The hero, meanwhile, continues to insist this is not the limit.
"Personally I was really tired and I am not in the condition that I was in last year, I'm really, really tired right now," Bolt told journalists after the race.
"I am extremely tired I just want to get some rest. Anything is possible because when I competed last year and saw the record in Beijing I didn't think I could beat it but after I broke that record I kept telling people that anything is possible. I didn't think it was possible to break Michael Johnson's record but then I got focused, got out there and worked hard."
Panama's Alonso Edward claimed silver, clocking a time of 19.81 seconds, while American Wallace Spearman completed the podium line up with 19.85.
Usain Bolt turns 23 on Friday and is likely to receive the birthday present of another World Championship gold in the shape of a 4x100m relay medal.
Elsewhere, Blanca Vlasic has won Gold in the women's high jump.
The Croatian jumper was the only competitor, who managed 2.04 metres. Vlasic then attempted a new World Record of 2 metres 10, but failed all three attempts.
Russia's Anna Chicherova claimed silver with 2.02 metres, while local girl Ariane Friedrich took bronze.
You can share this story on social media: