9.58 seconds that shocked the world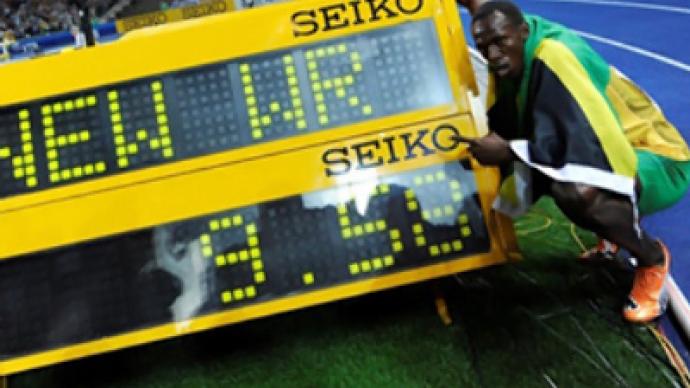 Three time Olympic champion Usain Bolt has won his first world title with an incredible time of 9.58 seconds. That broke the record of 9.69 that Bolt set last year in Bejing.
The defending world champion, Tyson Gay of the United States, also ran the best race in his career, finishing second in 9.71 seconds – a new American national record and the third fastest time ever.
Former world record holder Asafa Powell was third with 9.84.
Playing to the crowd and his opponents before the start, with his trademark Bolt gestures as well as a hand motion that signaled he was about to take off for a flight, the 22-year-old took the lead about 30 meters into the race despite a poor start. Gay and Powell were on his heels for more than half the race, but could do little this evening as Bolt was the hands-down winner.
As he crossed the finish line and saw the time, Bolt slapped his right hand over the "Jamaica" on his singlet.
"I knew I could do it," Bolt said, addressing fans after the race. "You guys are the best crowd ever. You gave me energy."
Meanwhile, there were more gold medals for the Russians at the World Athletics Championships in Berlin. 2008 Beijing gold medalist Olga Kaniskina followed in the footsteps of her compatriot, Valery Borchin, to take the gold in the women's 20 kilometre walk.
Kaniskina, who holds the current Olympic record in the walk, finished comfortably ahead of Ireland's Olive Loughanne and China's Hong Liu to defend her title.
The 24-year-old, added yet another medal to her 2007 World title that she won in Osaka, Japan, along with her Olympic gold.
Elsewhere, Russian javelin thrower Maria Abakumova is trying to join the title celebrations. On Sunday, the 23-year-old recorded the best distance of the day with 68.2 metres, to qualify for Tuesday's final.
You can share this story on social media: