Silver and bronze for Russia in Vancouver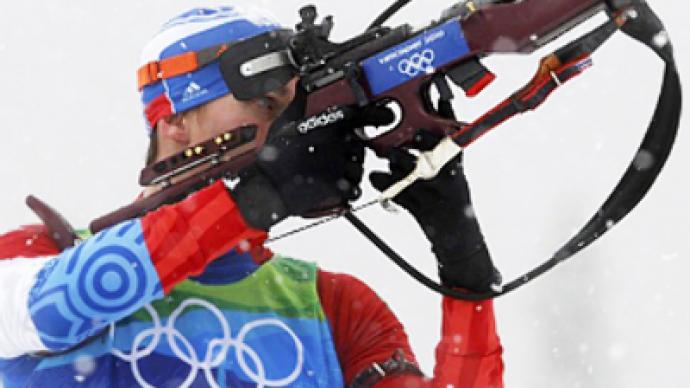 Team Russia has added two more medals to its tally on the 15th day of the Winter Olympics in Vancouver, grabbing a bronze in the men's biathlon relay and silver in women's snowboarding parallel slalom.
The country's biathlon relay team has finished behind Norway and Austria to win a bronze in the men's 4x7.5 kilometer race.
Ivan Tcherezov, who stated for Russia, was perfect in the first stage, finishing in first place, some 3 seconds ahead of Austria's Simon Eder.
The shooting of Anton Shipulin, who replaced Tcherezov on the track, was also faultless, but he lacked speed on the distance. Norway's Tareji Boe was on top after the second stage, enjoying a 30 second lead over his Russian rival.
Maksim Tchoudov was then able to win back 10 second after the first shooting, but in the end he passed the baton to Vancouver gold medalist Evgeny Ustugov, being 22 seconds behind both Norway and Austria.
Legendary Ole Einar Bjorndalen represented Norway on the deciding stage, with Christoph Sumann being Austria's man.
The fate of the race was decide on the final shooting range, where Bjorndalen gave his rivals no chance, bringing a well deserved win to Norway and putting hands on his 6th career Olympic gold.
Meanwhile, Ustugov's misses let Sumann, who was behind at that point, catch up with him. And it was the Austrian biathlete, who crossed the finish line half a second ahead of his opponent, leaving Russia in third.
"I wasn't losing to Bjorndalen in terms of speed on the track, Sumann was a little faster, because he had to catch up to us. But when it came to shooting, I honestly shuddered. My legs were shaking … This happens in biathlon. I had a chance to get ahead of Bjorndalen, but in this case he had to make a mistake, not me. And in the fight with Sumann… I almost got him, but I blundered a bit. I tripped and left everything to be decided on the finish line. And it appeared I'm a rather average finisher," Evgeny Ustugov told Sportbox.ru after the race.
Ilyukhina grabs snowboarding silver


Ekaterina Ilyukhina
Russian snowboarder Ekaterina Ilyukhina became a silver medalist in the women's parallel giant slalom at the Olympic Games in Vancouver, losing to Dutch Nicolienin Sauerbreij in the final.
Ilyukhina was 0,02 seconds ahead of her rival after the first attempt, but the more experienced rival managed to win back the advantage in the second try.

Also, Marion Kreiner of Austria was stronger than Germany's Selina Joerg in the battle for bronze.
Another Russian competitor, Ekaterina Tudegesheva, finished the competition in 8th place.
The results mean Russia has 15 medals after 15 days of competition in Vancouver, grabbing 3 golds, 5 silver and 7 bronze medals.
You can share this story on social media: