Biathlon men's pursuit gold in Nove Mesto goes to Russia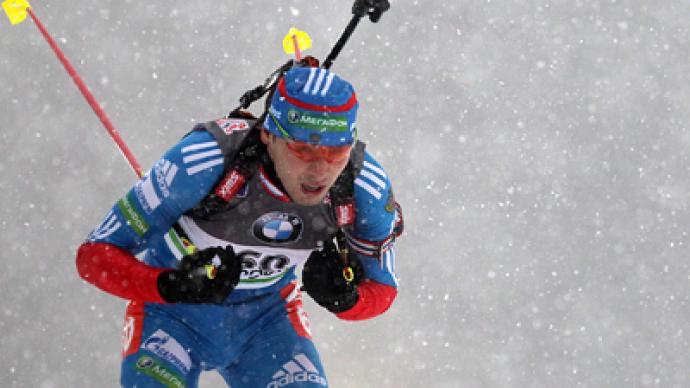 Anton Shipulin overcame one penalty lap to win a biathlon World Cup pursuit race on Sunday for his first victory of the season.
The 24-year-old Russian started the race on fourth position, 14.4 seconds behind sprint winner Emil Hegle Svendsen, and completed the 12.5-kilometer course in 34 minutes and 50.8 seconds in snowy conditions to claim his second individual career win. French brothers Martin and Simon Fourcade were close to sharing their second podium in-a-row, but soon after the pursuit's finish it was revealed that German Arnd Peiffer had done an extra penalty loop and was given a 21 second time credit, moving him into second place from his original finishing place of fifth. This dropped Simon Fourcade into fourth place.In the women's event, Russia's Olga Zaitseva could not retain her first place at the start finishing only fifth.
It was Norwegian Tora Berger, who raised a jackpot in Czech Nove Mesto on Sunday. She left behind Helena Ekholm of Sweden and Marie Laure Brunet of France, with both skiers shooting flawlessly. Overall World Cup leader Magdalena Neuner of Germany made the rare mistake of shooting at the wrong target at the third shooting round and had to settle for eighth.Sunday turned successful for other Russian winter sports masters. The duo of Aleksey Petukhov and Nikolay Morilov beat Sweden's Calle Halfvarsson and Teodor Peterson in the men's cross-country team sprint. Italian duo David Hofer and Fulvio Scola finished third in the World Cup event in Milan.Meanwhile, Team Russia, World Cup leaders in bobsled quartets, led by veteran Aleksandr Zubkov, claimed gold in Germany's Konigsee, finishing ahead of two home bobs.
You can share this story on social media: