Beach soccer booming in Russia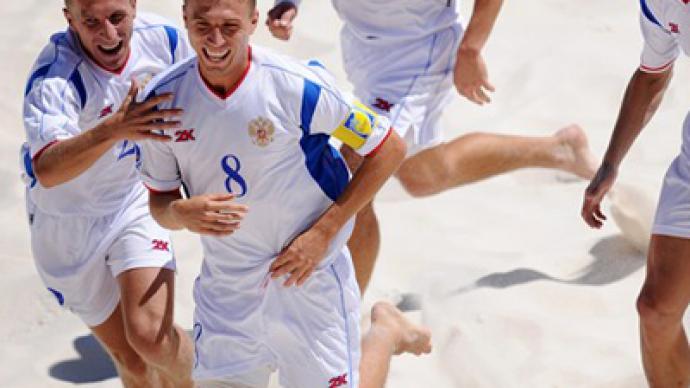 Russia's largely cold climate hasn't stopped the Russians from advancing in beach soccer. RT's Roman Kosarev tries to find out what's behind the country's recent progress in the sport.
It started as a pastime on the sands of Brazil's beautiful coastline. But soon beach soccer will be showcased to the world at the 2016 Summer Olympics in Rio de Janeiro. Brazilians are naturally the kings of the sport, but Russians are not too far behind. "Russia has been actively involved in beach soccer since 1995," said pundit Maksim Vechorek. "So we caught up quite early and had the time to train players that could be competitive in European and global events, and we began building the infrastructure. That's why beach football is one of the sports that allow Russia to rank high in European and world competitions." Maksim is the president of FC City from St. Petersburg, a club that is unique to Russia in a few ways in terms of beach soccer. They were the first ones to create a women's practice group along with a reserve squad. For now the team's success has been mostly local. But it has ambitious plans to make it to the top nationally – and internationally as well."We made a thorough selection, unveiled new players who showed promise of a better performance," he explained. "As a result, the new team won the St. Petersburg championship. But we decided to transform ourselves into a serious beach soccer club."The Russian national team has become one of the sport's powerhouses. International tournaments in the country attract huge crowds in the summer, but the long winter in most parts limits players and fans to just a few warm months per year. It is hoped that the national team's global success could result in a surge in popularity of this fun version of football throughout Russia."Before we have proper infrastructure, with good stadiums, it's not easy to stage ad campaigns to attract fans. When it's done, we'll have the pleasure of seeing the stands filled to capacity," said Vechorek. "In Brazil, for example, 4,000-5,000 people may attend a league match, and up to 12,000-14,000 when it's a national team match. It's a show, a permanent celebration – something for us to learn from."Even though advancement of beach football is far from ideal in Russia, the country's national team is constantly ranked in Europe's top 3. In 2009, the team even became the Euro League Champions. That's something the Russian regular national squad, led by Andrey Arshavin, could probably learn from.
You can share this story on social media: