Russian fighters dominate Battle of Champions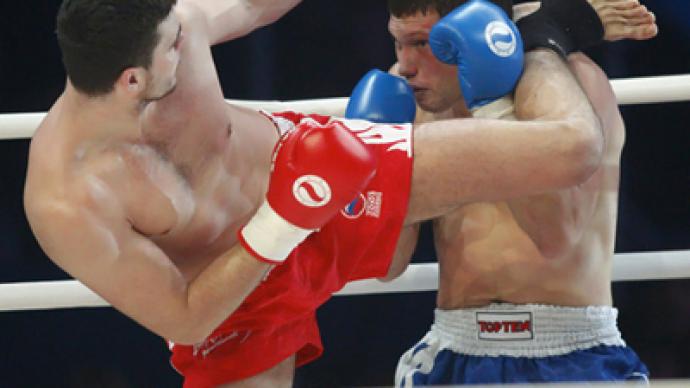 The fifth "Battle of Champions" was held in the Russian capital on Friday to reveal which fighting technique is the toughest.
This competition is unique as it gives an opportunity for athletes of 18 fighting styles to face each other in one ring.This time, 19 World and European Champions came to battle it out in 11 bouts, to discover whose fighting background beats the rest. One of the most impressive fights of the night was between Artem Levin and Alexander Stetsurenko. The rivals have already met each other twice and the score was level. And this time Thai boxer Levin scored a points win over the 27-year-old kickboxer in a tough and spectacular duel. But the "afters" following the feast of fighting were to top the evening's menu, with two world titles battled out in two disciplines.Aleksander Shabotinskiy of Russia faced Michael Sixel from the US to become World Champion in pankration.  The Russian wrestler dominated from the opening round, giving his opponent no chance to get back into contention. 22-year-old Shabotinskiy kept throwing his rival to the floor.Though the Russian was delighted, with victory assured long before the end of the encounter, there was a tinge of sadness. It was his last ever fight, bowing out of the ring at the top due to a long-term injury. "On one hand I'm very happy and would like to thank everyone and my opponent as well. But on the other hand, it's a little bit sad as I have to finish my professional career because of injuries. So it was my last fight in the ring. However I'm going to stay involved, training young fighters," he said. In the final battle of the night, Batu Khasikov fought Fabio Corelli for the World title in kickboxing.The 38-year old Italian never really stood a chance in a blizzard of punches and kicks from the Russian. 30-year old Khasikov simply thrashed his opponent, landing punches to the stomach and head, meaning an early "arrivederci" for the Italian. The referee had to stop the fight in the third round, after a hail of blows. A good day's work for the formidable Russian fighter, who has now grabbed all the belts in kickboxing, plus the crown of Absolute World Champion.  "My opponent is a very non-typical kickboxer and I experienced problems with his kicks in the first round. But my tough training helped me then. And I was sure that the punches I threw at him would finally find the target. And that's what happened," Khasikov said.Martial arts are very popular in Russia. A full house at the Luzhniki arena was evidence, with spectators getting a rare chance to see the top fighters from various martial arts in action, doing battle in one ring.
You can share this story on social media: