Paris mayor backs Russian Olympic reintegration
The IOC has said it is investigating means to reinstate Russia and Belarus to Olympic competition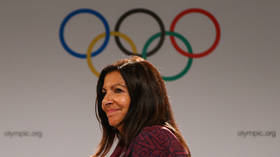 Measures designed to provide a framework for the return of Russia and Belarus to the Olympic fold have received the backing of Anne Hidalgo, the mayor of the 2024 host city Paris.
The International Olympic Committee (IOC) announced this week that it was investigating methods of overseeing the reinstatement of both countries, eleven months after it imposed a wide-ranging suspension following the onset of hostilities with Ukraine.
The IOC said the Olympic Charter guaranteed individual athletes a right to compete, but stressed that sanctions against the governments of Russia and Belarus should continue – and added that athletes would only be considered eligible to compete if they satisfy specific criteria, such as strict adherence to the World Anti-Doping Agency (WADA) code.
It also said athletes would be disqualified from competition if they expressed support for the military action.
The Olympic Council of Asia (OCA) on Thursday formally invited athletes from both countries to participate in the Asian Games in September, which would provide a pathway for Russians and Belarusians to qualify for the Olympics and remove a major obstacle to both countries' participation in Paris in 2024.
News of the potential inclusion drew criticism from Ukraine, with its President Vladimir Zelensky detailing on Telegram this week that he told French President Emmanuel Macron that Russians have "no place" in France next year.
However, this doesn't appear to be an opinion shared by Anne Hidalgo, the mayor of Paris and a figure who has been central to Olympic preparations ahead of the city's first hosting of the Games in a century.
"I think it's a time for athletes and that you shouldn't deprive athletes of their competition," she told French media.
"But I think and I plead, like a large part of the sporting movement, that there isn't a delegation behind the Russian banner.
"Of course the Games are taking place in a geopolitical time. I hope the war in Ukraine will be behind us when we welcome the Paris Games."
You can share this story on social media: