Ruthless Djokovic storms past Rublev at Australian Open (VIDEO)
The Serbian ace remains on course for a tenth title Down Under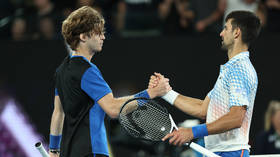 Novak Djokovic's quest for a record-equalling 22nd Grand Slam title remains on course after the Serbian star turned in a devastating performance to defeat Russia's Andrey Rublev in their Australian Open quarterfinal clash on Wednesday.
Nine-time champion Djokovic, who was controversially deported from Australia ahead of last year's tournament, remains on course for yet another title after recording his 26th consecutive win in Melbourne, blitzing the Russian challenger in just over two hours of action (6-1, 6-2, 6-4).
The Serb showed no sign of the hamstring issue which he has been battling throughout the tournament as he dominated on his own serve throughout the match, and fired back a series of excellently-timed return shots on several Rublev service games.
Rublev, who overcame an intense five-round battle with Denmark's Holger Rune on Monday, couldn't find any semblance of a foothold early as Djokovic swept through the first and second sets, losing just three games along the way.
The Russian showed a measure of resistance in the third but was ultimately powerless to stop a rampaging Djokovic, who fired 14 aces and 32 winners past him.
Djokovic also held his nerve throughout rare instances of a Rublev fightback, saving every one of the five break points he faced in the match.
"It was very close to the performance of two nights ago [the fourth round]," said Djokovic afterwards. "I cannot be happier with my tennis.
"I've been playing very solid from the back of the court, love playing in these conditions and this court."
For Rublev, it is the seventh time he has been defeated in a Grand Slam quarterfinal and continues his unfortunate sequence of losing every Grand Slam quarterfinal he has ever played in – just the second player in the Open Era to do so.
Djokovic, meanwhile, was again targeted by sporadic heckling during the match, prompting him to complain to the chair umpire in the first set – though this only served to briefly delay the inevitable.
If he maintains his impressive form in Australia all the way to Sunday's final, Djokovic will go level with rival Rafael Nadal on the all-time Grand Slam winners' list.
To do so, he will have to bypass Tommy Paul in Friday's seminal after the American triumphed over Ben Shelton in four sets earlier on Wednesday.
The winner of that clash will play either Stefanos Tsitsipas or Karen Khachanov in the final.
You can share this story on social media: