Irate Djokovic demands 'drunk' fan be ejected at Australian Open (VDEO)
The Serb is aiming to win his tenth title down under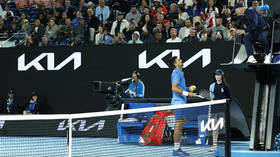 Novak Djokovic demanded that a rowdy supporter be removed from the arena during his Australian Open victory against Enzo Couacaud on Thursday.
The Serb, who has now won two matches at the Grand Slam event a year on from his contentious deportation from the country, has been warmly received by the majority of fans in Melbourne, as well as throughout the warmup event at the Adelaide International.
However, Djokovic didn't quite take so kindly to the interruptions of one supporter in particular, who he told the chair umpire was repeatedly attempting to provoke him throughout the match.
"The guy's drunk out of his mind. From the first point he's been provoking. He just wants to get in my head," a clearly angry Djokovic said to umpire Fergus Murphy.
"So I'm asking you, what are you going to do about it?
"You heard him at least ten times, I heard him 50 times. What are you going to do?
"Why don't you get security to get him out of the stadium?"
Djokovic's complaint quickly received the backing of the partisan crowd, many of whom began to chant his name in support of his request – and it didn't take long for security to identify the individuals involved, as a group of four men wearing 'Where's Waldo' costumes were ushered out of the stadium.
The interruption only served to delay Djokovic's four-set win (6-1, 6-7, 6-2, 6-0).
"Yeah, some really interesting circumstances that you have to deal with but I guess that's a Grand Slam, night sessions can be electric in both a positive and negative way for a player on the court," Djokovic said after the match.
"You just have to accept it and get the most out of it."
The manner of his win was overshadowed somewhat by what appeared at one point to be the worsening of a hamstring injury Djokovic has carried into the tournament.
"To be honest, it's not good at all," he said of the injury.
"But look, I'll take it day to day. It was better last match than tonight, that's all I can say.
"It's up to God to help me and the physio and everyone. Let's take it day by day."
Djokovic will next play Bulgaria's Grigor Dimitrov in his third round match on Saturday.
You can share this story on social media: