ISU extends Russia figure skating ban
The International Skating Union says Russia cannot host Grand Prix events in 2023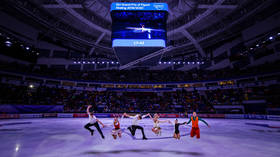 The International Skating Union (ISU) has determined following a meeting of its council that Grand Prix of Figure Skating events cannot be held on Russian or Belarusian territory in the upcoming 2023-24 season.
It was decided by the ISU last year that, "until further notice no International Competitions shall be held in Russia and Belarus" – a decree which can only be overturned by an executive meeting of its council.
But following this week's council meeting it was agreed that the suspension should be extended to account for the following season, due to begin this summer.
Skaters from the Russian Skating Union, the Figure Skating Federation of Russia and the Skating Union of Belarus were suspended from international competition last March following the breakout of conflict in Ukraine and following recommendations from the International Olympic Committee (IOC).
"The decision of the ISU Council on the suspension of Russian and Belarusian athletes, which was approved by Congress, will be valid until a special decision of the Council or Congress," ISU general director Fredi Schmid announced last year.
ISU Grand Prix events are considered to be among the most prestigious tournaments to take place in the sport annually, with only the Olympics and the World and European championships generally held in higher regard.
The Rostelecom Cup, formerly known as the Cup of Russia has predominantly been held in Saint Petersburg and Moscow since 1996, though it took place in Sochi for the first time in 2021.
In April of last year the event, which was due to begin in November, was canceled by the ISU following IOC recommendations.
The ISU Grand Prix of Figure Skating Cup of China was also suspended last year due to the country's Covid-19 situation.
You can share this story on social media: