BBC issues apology as sex noises interrupt football broadcast (VIDEO)
Football host Gary Lineker stated that the BBC studio had been 'sabotaged'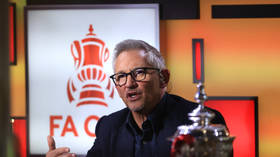 UK broadcaster the BBC says it is investigating the circumstances surrounding a mobile phone taped to the back of a chair in a studio, which began emitting sex noises during a live football broadcast on Tuesday.
Before kickoff in a match featuring Wolves and Liverpool, host Gary Lineker was interrupted by pornographic sounds while he and his broadcasting colleagues Paul Ince and Danny Murphy were previewing the FA Cup fixture live on the air.
Lineker struggled to maintain his composure and quickly introduced another pundit and former professional player, Alan Shearer, who was stationed in the commentary gantry.
"Somebody's sending something on someone's phone, I think. I don't know whether you heard it at home," a red-faced Lineker said to Shearer.
Early into the match, former England international forward Lineker tweeted an image of a mobile phone which he said had been taped to the back of a chair in the studio, which he claimed was the source of the x-rated audio.
"Well, we found this taped to the back of the set. As sabotage goes it was quite amusing," Lineker wrote on social media.
The incident almost immediately went viral on social media. A YouTube prankster, Daniel Jarvis, later took responsibility for the incident and tweeted footage which appeared to show him inside the TV studio at Wolves' Molineux stadium in advance of the match.
"We apologize to any viewers offended during the live coverage of the football this evening. We are investigating how this happened," the BBC said in a brief statement.
Liverpool won the match 1-0 thanks to a goal from youngster Harvey Elliott, which Lineker described as "a screamer … which was not the only one we've had tonight."
You can share this story on social media: