Tennis player refutes fake Covid vaccine cert claims
Italy's Camila Giorgi needed a vaccination certificate to play in last year's Australian Open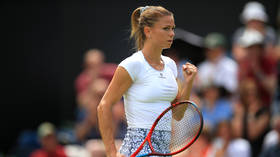 Tennis star Camila Giorgi has denied allegations that she obtained a falsified Covid certificate to allow her to bypass vaccination mandates in countries such as Australia and the United States last year.
Numerous reports in the Italian media state that a doctor, Daniela Grillone, is under investigation for providing patients with falsified vaccination certificates upon request, with Grillone alleging that Giorgi was among those under her care who was not vaccinated against Covid-19.
Giorgi was in the field at last year's Australian Open. At the time, Australian immigration rules required all visitors to be fully vaccinated against the virus.
She also competed in the United States last year, where proof of vaccination was similarly required to enter the country.
Speaking after the comprehensive two-set win against Russia's Anastasia Pavlyuchenkova in Melbourne on Tuesday, Giorgi confirmed that she did visit Grillone but added that she received vaccination shots from other healthcare professionals.
"I just did all my vaccination in different places, so the trouble is hers, not me," she said. "So with that, I'm very calm. Of course, if not, I couldn't come here and play this tennis, I think."
Giorgi added that she was vaccinated on one occasion by Grillone.
"The other vaccination, I did it in different kind of places, so it's what I'm trying to explain," she added.
"So I'm fine … she's in trouble with the law in Italy. I did everything what they ask, the Australian government," she said. "It's not my problem. It's her problem."
Craig Tiley, the chief executive of Tennis Australia, also stated that he was not fully aware of the allegations made against Giorgi.
"I think there's still a lot to be uncovered on that and I think that's going to be ultimately up to their family and the relevant authorities including the tour," he said. "I don't really know any further details."
Nine-time Australian Open men's singles champion Novak Djokovic was deported from the country on the eve of last year's Grand Slam event after falling foul of its vaccination requirements.
However, Australia has since rolled back these requirements and in November canceled a three-year visa ban imposed on the Serbian star.
You can share this story on social media: