Criminal probe opened on French football chief
French Football Federation President Noel Le Graet has denied allegations of sexual harassment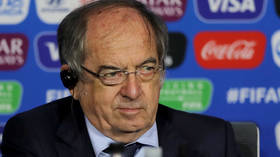 Noel Le Graet, the president of the French Football Federation (FFF), is under criminal investigation amid allegations of sexual harassment, Paris prosecutors confirmed on Tuesday.
The probe, which was opened on Monday, will investigate claims made by football agent Sonia Souid, who has alleged that Le Graet engaged in repeated harassment against her.
The 81-year-old was also accused of the harassment of several female employees by French publication So Foot last year, which prompted the FFF to threaten the magazine with a defamation lawsuit.
However, these claims led to the French Sports Ministry pursuing an audit of the allegations.
Le Graet denies any claims of sexual harassment but last week "took a step back" from the role he has held since 2011. He has been replaced on an interim basis by the organization's Vice-President Philippe Diallo.
"In response to a report from the IGESR (General Inspection of Education, Sport and Research) on 13 January 2023, an investigation was opened yesterday into charges of moral harassment and sexual harassment," prosectors said in a statement to Reuters on Tuesday.
This follows claims of impropriety against Le Graet by Souid, who told the media that he would repeatedly invite her to discuss business matters privately in his residence.
"He very clearly said to me in his apartment that, if I wanted him to help me, I had to let him have his way with me," said Souid, who has given interviews on the subject to French daily L'Equipe and the RMC radio station.
"The only thing that interested him, and I apologize for speaking vulgarly, are my breasts and my ass," she added.
The investigation into Le Graet comes shortly after he provoked the ire of French football by appearing to question the managerial acumen of football icon Zinedine Zidane while discussing the future of national team boss Didier Deschamps.
Le Graet told RMC last week that he "wouldn't even have taken his call" had former Real Madrid boss Zidane expressed an interest in coaching Les Bleus.
Deschamps, who led France to victory at the World Cup in Russia in 2018, and lost last month's final to Argentina on penalties, subsequently signed a new contract to extend his stay with France until 2026.
You can share this story on social media: