Moscow responds to Australian Open flag ban
Organizers of the major sporting event have banned the Russian and Belarusian flags from being displayed by fans in Melbourne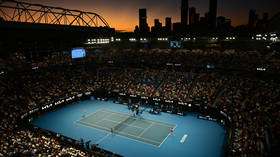 The decision by organizers of the ongoing Australian Open to ban the display of Russian and Belarusian flags by fans has been described as an "unacceptable politicization of sports" by Russia's embassy in Canberra.
A statement from Tennis Australia on Tuesday said the decision was made following what was described as a "courtside incident" which occurred during the first round match between Ukraine's Kateryna Baindl and Russia's Kamilla Rakhimova on Monday, during which some supporters displayed the Russian tricolor and vocally supported the Russian player.
Supporters of Baindl, though, said Russian fans had been "taunting" the Ukrainian player and called for security staff to assess the situation. The Russian flag was subsequently removed but no further action was taken.
The scenes drew the condemnation of Ukrainian women's player Marta Kostyuk as well as the Ukrainian ambassador to Australia, Vasily Myroshnychenko, who called upon Tennis Australia to impose a "neutral flag" policy, and said he "strongly condemned" the display of Russian colors at the event.
In response, Russia's embassy in Australia issued a statement online in which it heavily criticized the decision to impose a ban on the display of the country's tricolor throughout the tournament.
"The decision to ban Russian and Belarusian flags from appearing onsite at the Australian Open is another example of the unacceptable politicization of sports," it wrote in a statement distributed on social media.
It added: "On top of already discriminating against Russian tennis players with its 'neutral flag policy' Tennis Australia now went further by making sure they cannot be visibly supported by their fans.
"Quite ironically, Tennis Australia pledges to 'continue to work... to ensure the best possible environment to enjoy the tennis.'
"It is indeed regrettable to see the tournament organizers give in to overt and rather arrogant political manipulation sacrificing the spirit of fair play once inherent to the Australian Open."
Players from both Russia and Belarus, such as Daniil Medvedev and Aryna Sabalenka, are permitted to compete at the Grand Slam event but they must do so without the formal display of any national symbols, following sanctions introduced by the sport's governing bodies following the onset of the conflict in Ukraine last year.
In advance of the event, the Ukrainian ambassador called on Tennis Australia to ban players from Russia and Belarus entirely in a similar manner to measures imposed at Wimbledon last summer, but the request was rejected by Australian tennis authorities – allowing the likes of Medvedev, Sabalenka and Andrey Rublev to compete at the event.
It was reported that a Russian flag was subsequently removed from the stands during fifth-seed Rublev's opening round win against Dominic Thiem on Tuesday.
You can share this story on social media: