Driver withdraws from Dakar rally after fatal accident (VIDEO)
A spectator died after being struck by a vehicle at the famous race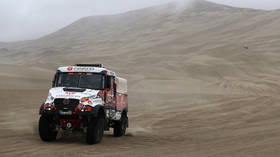 Czech driver Ales Loprais has withdrawn from the Dakar rally following his involvement in an accident which resulted in the death of a spectator.
During Tuesday's ninth stage, Loprais, who was leading the T5 category at the time, was clearing a sand dune when his truck hit a spectator who was photographing the race.
The man, who has since been confirmed as having Italian nationality and was 69-years-old, quickly got to his feet but collapsed shortly afterwards. Several people came to his aid but he died of an apparent heart attack while being transported for medical assistance.
Speaking about the incident in a video posted to social media, Loprais said he was not aware of the incident until they were informed by race officials later that day – something which appeared to be confirmed by his onboard camera, which didn't seem to register the accident, while Loprais didn't make any reference to it in his onboard communications with his team.
"They told me this when we came back from the ninth stage," said Loprais.
"We had already been in bed, but the Dakar stewards showed us video footage of an accident from the race, that we hit a man by mistake who took pictures under the dune and he was injured.
"He felt nauseous after two to three hours and he had a heart attack while being transported to the hospital. One human life has ended indirectly and it was my fault, because I was driving.
"I have to admit that me and my crew didn't know about it at all. We've got onboards and other videos that prove it. But this does not change that a human life ended.
"The man was Italian, but I don't know his name at the moment because of the investigation. A 69-year-old fan that came to see the Dakar race, and unfortunately was standing under the dune, and we didn't see him at all. None of us.
"I would like to express my sincere condolences to his family and friends. I am very sorry and this accident will be with me for the rest of my life."
At the time of the accident, Loprais had a 26-minute, 54-second advantage over Janus van Kasteren in the T5 category.
The accident is the fifth death since the race moved to Saudi Arabia in 2020, and the 76th overall since the race was established in 1978.
You can share this story on social media: